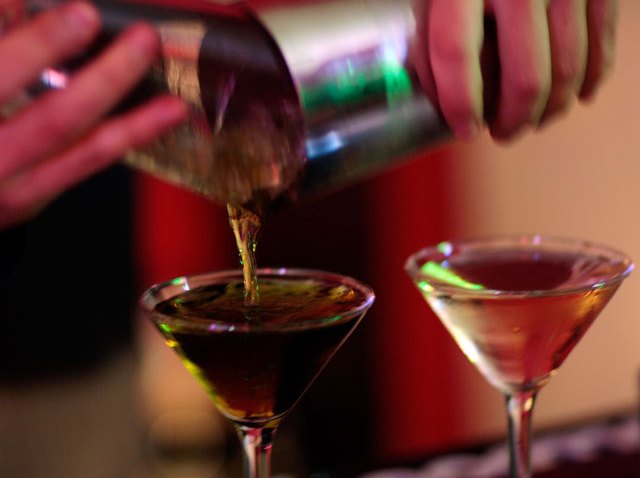 When was the last time you looked at "The Dance Class" by Edgar Degas and felt inspired to mix up a little liquid libation? Does Auguste Rodin's "Eve" send your soul into thoughts that are shaken, not stirred? Perhaps "Sunset on the River" by Charles Daubigny arouses your passion for pomegranate.
Whatever your taste in art, you might find its match in a martini glass during the Corcoran Gallery's ARTINI Benefit that just got underway.
Throughout March, 12 of Washington's well-known mixologists will be concocting martinis inspired by works of art from the Corcoran's current exhibition, "A Love of Europe: Highlights from the
William A. Clark
Collection."
On Saturday, March 27, the Artini 2010 benefit will be held at the Corcoran. The masterful mixolgists will serve up their palate pleasers with a backdrop of those artistic masterpieces that inspired them. You will need a ticket to get in for dining and dancing from 8 p.m. until midnight.
The month-long taste test is sponsored by the gallery's 1869 Society. Connoisseurs of art and martini are invited to sample and cast a vote for one of the competing creative concoctions at the bars and restaurants listed below:
Vannara Amnathvong
J&G Steakhouse
515 Fifteenth Street NW
Charles Daubigny,
Sunset on the River
, 1874, oil on panel, 15 ¼ x 26 ¼ in., William A. Clark Collection, 26.66
Jon Arroyo
Farmers & Fishers
3000 K Street NW
Jean Forain,
The Proof
, 1905/1915, oil on canvas, 20 x 24 in., William A. Clark Collection, 26.87
Gina Chersevani
PS7's Restaurant
777 I Street NW
Edgar Degas,
The Dance Class
, c. 1873, oil on canvas, 18 ¾ x 24 ½ in., William A. Clark Collection, 26.74
Ronald Flores
Art and Soul
415 New Jersey Avenue NW
Jean-François Raffaëlli,
The Boulevard
, c. 1900-1905, oil on canvas, 26 ½ x 32 in., William A. Clark Collection, 26.156
Justin Guthrie
POV at the W Hotel
515 Fifteenth Street NW
Henri Fantin-Latour,
Arcadia
,
Women Bathing
, late 19th century, oil on canvas, 17 ½ x 26 in.,William A. Clark Collection, 26.86
Erik Holzherr
Wisdom
1432 Pennsylvania Avenue SE
Pascal Adolphe Dagnan-Bouveret,
After Church in the Fields
, c. 1887, oil on panel, 15 ½ x 17 ½ in., William A. Clark Collection, 26.65
Chris Kelley
Mie N Yu Restaurant
3125 M Street NW
after Bernard Palissy,
Rustic Plate with Alligator, Snake, and Lizard
, 19th century, lead-glazed earthenware, 3 x 17 ¼ x 14 in., William A. Clark Collection, 26.495
Arris Noble
SEI Restaurant & Lounge
444 Seventh Street NW
Jean-Baptiste-Camille Corot,
Repose
, 1860, reworked c. 1865-1870, oil on canvas, 22 ¾ x 40 in., William A. Clark Collection, 26.41
Tiffany Short
The Gibson
2009 Fourteenth Street NW
Auguste Rodin,
Eve
, c. 1881, marble, 30 x 9 ¾ x 12 in., William A. Clark Collection, 26.704
Jason Strich
Rasika Restaurant
633 D Street NW
Joseph Mallord Turner,
Boats Carrying Out Anchors to the Dutch Men of War
, c. 1804, oil on canvas, 40 x 51 ½ in., William A. Clark Collection, 26.180
Owen Thomson
Bourbon
2321 Eighteenth Street NW
Jean Cazin,
The Great Windmill and the Rainbow
, 1888, oil on canvas, 35 x 46 in., William A. Clark Collection, 26.18
Chantal Tseng
Tabard Inn Restaurant
1739 N Street NW
Edgar Degas,
Two Women
, c. 1878-1880, pastel over watercolor on tan laid, 11 ½ x 17 ½ in., William A. Clark Collection, 26.73