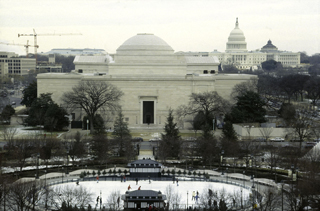 One of the best preserved sculptures from Roman antiquity, the "Capitoline Venus," has left Italy for the first time in almost 200 years for a special display at the National Gallery of Art in Washington.

The installation announced Thursday goes on public view Saturday and continues through early September. The full-scale female nude statue has only left Rome one other time -- when it was seized by Napoleon and taken to France in 1797. It was returned to Rome's Capitoline Museum in 1816.

Gallery Director Earl A. Powell III said this is a "once-in-a-lifetime opportunity" to see the piece in the United States. It will be displayed in the museum's rotunda.

It is a descendent from the "Aphrodite of Cnidos" by Greek sculptor Praxiteles around 360 B.C. It was unearthed in the 1670s.
---
Check Out the Scene: Keep up with what's happening in the D.C. area anytime, anywhere. Follow us on Twitter and Facebook. Sign up for our e-mail newsletters. Don't forget our iPhone app!
Copyright AP - Associated Press