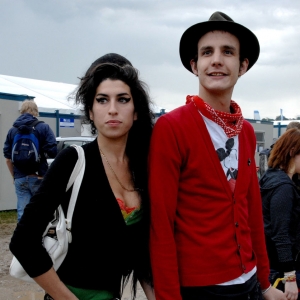 While troubled singer Amy Winehouse has been relaxing on the Caribbean island of St. Lucia recently, there's one thing back home she hasn't forgotten.
"I still love my Blake. I won't let him divorce me," Amy told the Sun of her husband, Blake Fielder-Civil. "He's still in jail but the moment he comes out I'll be there waiting for him."
VIEW THE PHOTOS: Hollywood Divorces
According to The Associated Press, Blake will be filing for divorce based on Amy's alleged infidelity. She's been photographed vacationing with rugby player Josh Bowman; meanwhile, Blake is back in jail after breaching his bail conditions while in rehab in November.
"While Blake is in jail I'm still gonna have a good time — he can't do much about it," she told the Sun. "But once he comes out we'll be together again."
VIEW THE PHOTOS: Amy Winehouse
"I love him because he's just like me," Amy added. "Blake is the male version of me. We're perfect for each other."
But, she said, he's going to have to come to her as she continues to vacation.
"I don't want to go back home to England. I want to wait for Blake here," she said.
VIEW THE PHOTOS: The Brit Pack
The trip seems to have done the singer some good – she told the Sun that she's off drugs and writing songs, though the tabloid also reported that she's also been banned by her hotel from drinking after a number of complaints.
Related Content from AccessHollywood.com:
PLAY IT NOW: Amy Winehouse Hits The Bars After Leaving A Rehab Clinic
PLAY IT NOW: Nelson Mandela's Birthday Bash Continues

MORE ACCESS ON THESE TOPICS: Amy Winehouse - Couples - Brits - Music - Divorces

Copyright NBCAH - Access Hollywood