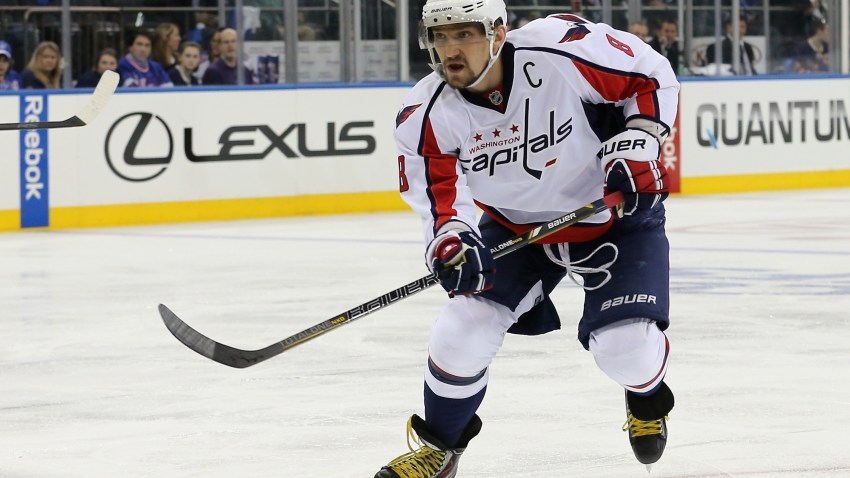 Throughout his career, most -- if not all -- the attention placed on Capitals forward Alex Ovechkin has focused on his dynamic scoring ability, as one would expect considering his lofty goal totals.
Ovechkin's seasons are defined by how many goals he scores; just this season, when he only had nine goals through the first 25 games, some wondered if the 27-year-old was washed up, though he dispelled those thoughts with a scorching 23-goals-in-23-games second half.
Yet with so much focus on "Alex Ovechkin, the goal scorer," it's easy to overlook "Alex Ovechkin, the playmaker." In eight seasons, Ovechkin has finished in the top 20 in assists league-wide five times, including the top 10 three times.
Through the first three games of the Capitals' Eastern Conference quarterfinal series against the Rangers, Ovechkin's passing ability has been on display. He only has one official assist -- a secondary helper on defenseman Mike Green's game-winning goal in Game 2 -- but he has made several impressive passes.
In Game 2 last Saturday, Ovechkin fired a cross-ice pass to forward Marcus Johansson that the latter ultimately couldn't lift over Rangers goaltender Henrik Lundqvist. During Washington's 4-3 loss to New York Monday, Ovechkin found forward Troy Brouwer down low with a sublime pass during a second-period power play, which Brouwer ultimately shot wide.
"Obviously, I think his game has evolved that way," said Coach Adam Oates, who, as a Hall-of-Fame playmaker, obviously knows a thing or two about passing. "Ovi is obviously the goal scorer, the focal point, but every little decision he can make... just helps."
Part of that evolution derived from forward Mike Ribeiro, who pulled Ovechkin aside at the beginning of the season and told him that his passes were too hard, which didn't allow those on the receiving end to gather them properly.
"For guys, to [take a] one-timer [from Ovechkin] was just too hard," Ribeiro said, adding that Ovechkin's passes are significantly softer now than they were at the start of the season. "Told him to relax a bit on those passes and I think he did that a little bit. If it's too hard, it's too hard for us to shoot, so I think he's slowed down those passes and guys can actually one-time his pass now."
Ovechkin's softer approach was evident during a second-period scoring chance with Ribeiro.
Ovechkin received a pass from Johansson at the left faceoff circle, curled and feathered a one-touch pass of his own to a waiting Ribeiro. Lundqvist robbed Ribeiro, but as has been the case all season, Ovechkin has adjusted and refined his game, which allowed for the opportunity in the first place.
"Obviously, his first thing when he gets the puck is to shoot," Ribeiro said. "For me, every time I get the puck, it's to try to pass it, but he can do both. He can make both plays."
---
Follow Adam on Twitter @AdamVingan and e-mail your story ideas to adamvingan (at) gmail.com.