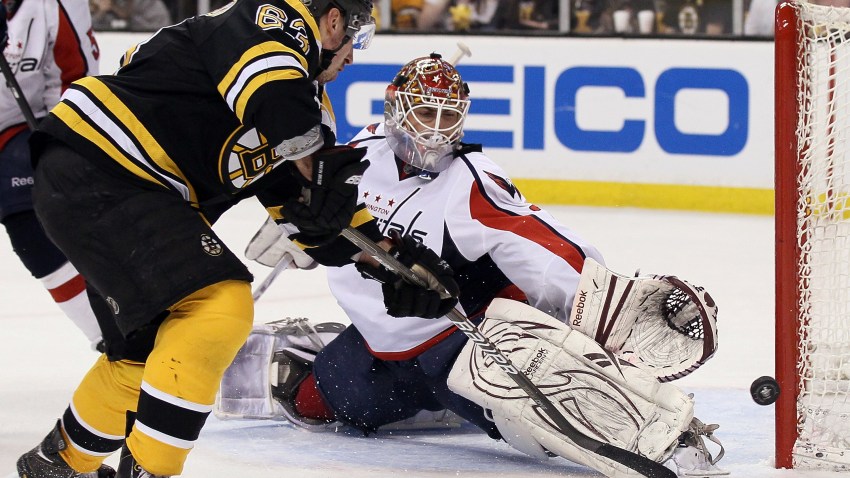 Between limousine riding, jet flying, kiss stealing, and wheeling and dealing, iconic wrestler Ric Flair would repeatedly state that "to be the man, you've gotta to beat the man."
Saturday afternoon in Boston, Washington Capitals goaltender Braden Holtby did just that, besting the man who many would consider to be "the man" in terms of NHL goaltending, the Boston Bruins' Tim Thomas -- last year's Vezina and Conn Smythe Trophies winner.
With the Caps and Bruins tied at 1-1 in their Eastern Conference Quarterfinal series and Game 3 set for Monday at the Verizon Center, head coach Dale Hunter has put his complete faith into Holtby, anointing him as "the man."
"Holtsy's our goalie," he said Sunday.
Holtby is the third Caps goaltender in four years -- Semyon Varlamov and Michal Neuvirth being the other two -- who's been thrown into the proverbial postseason fire without any past NHL playoff experience.
But just like those before him, Holtby is not bathing in its glow.
"My game really didn't change too much," Holtby said Sunday. "It was basically the way we played, the way the game was played as a whole as to why I was successful. I want to work on some things; I want to be better and to get better throughout the series. Right now, all the focus is on Game 3."
There is not much Holtby can honestly do to get better; he has stopped 72 of 74 shots he's faced and has kept his composure (minus one roughing penalty in Game 1 Thursday) against the defending Stanley Cup champions.
When Holtby, like Flair, walks down that aisle to the ice Monday, all eyes will be focused on him. And whether he likes it or not, he better learn to love it because he's the best thing going today.
---
Adam Vingan is co-founder and editor of Kings Of Leonsis, a Caps-centric blog, and is the Capitals Editor for SB Nation. Follow him on Twitter @Adam_KOL and e-mail your story ideas to adamvingan (at) gmail.com.