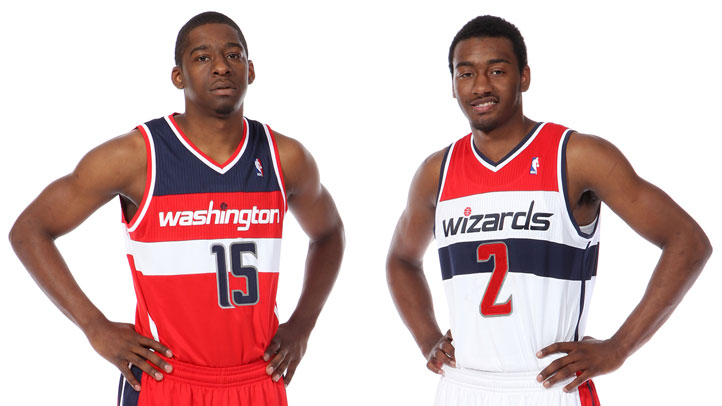 The 2011-12 edition of the Washington Wizards take the floor in a few hours against the New Jersey Nets at the Verizon Center. Like you, we can't wait to see Year 2 of The John Wall Era get off the ground, but as we survey the Internet and its many NBA predictions, we find that not everyone shares our excitement. At least, not when it comes to the Wizards.
For example, veteran basketball writer Sam Smith picks Washington to finish 12th in the 15-team Eastern Conference, but not before saying the team should "cut everyone but [JaVale] McGee and Wall and start again." Tell us how you really feel, Sam.
Same goes for venerable New York Post scribe Peter Vecsey, who put the Wizards in the "bottom feeder" category of his Eastern Conference preview. The two sentences devoted to the Wizards are quoted here in full: "Until this team learns there are two ends of the floor they¹re a waste of time to watch. Fiercest competition will be among John Wall, Jordan Crawford and Nick Young for shots."
The outlook isn't much better over at CBSSports.com, where the Wizards are described as "one injury away from being in combustion mode." We'll assume that injury would be to Wall and not, say, Ronny Turiaf.
Over at ESPN, there is at least cautious optimism. The five-member prediction panel is at least unanimous in their approval of Washington's new uniforms, but frankly, who isn't? They are, however, divided on whether the Wizards will make the playoffs in either of the next two seasons (three say yes, two say no), as well as the re-signing of Young (three say no, two yes). The fearless five also say that Washington's first-round draft pick Jan Vesely will make the All-Rookie Team, which is surely the kiss of death, since the big Czech will miss at least tonight's game (and probably more) with a hip injury.
But hey, it's still Opening Night, and if you can't be optimistic now, there's likely not going to be a whole lot to get excited about later.