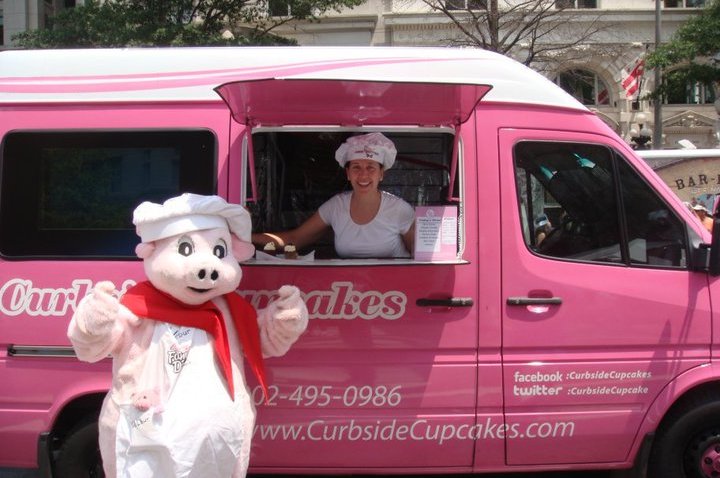 Imagine a life where you're not routinely addressed as "Nation" by Curbside Cupcake on Twitter. Now imagine that world -- bleak as it may be -- without other food trucks such as D.C. Slices, Fojol Bros., Sweetflow, District Taco... well, you get the idea.

A terrifying world where you can only buy your food from organizations that are actually attached to the groud.
Shocking though it may sound, Curbside Cupcake has informed its loyalists that the District's food freedom may be getting called into question. The owners of the food truck posted on Facebook this morning:
Dear Nation,

We need your help! Some local merchants and B.I.D's [business improvement districts] are lobbying the City Council to limit or kill mobile food trucks in Washington, DC. They want change the law to stop us from being able to operate in DC. No more cupcake bliss right to your curb!!

In this fight, food trucks like Curbside Cupcakes, Fojol, DC Slices, Sauca, are the little guy and we need your help. Strong lobbying interests are working against us. We need to show City Council that DC wants a diverse base of vending options. Mobile trucks like Curbside Cupcakes and others are reaching out to you our friends, followers and families to help us so we can keep bringing you your cupcakes. Otherwise we could get shut down and shut out by larger interests, that have more money, power and influence than we do.

Will you please join our email campaign? DCRA is helping us by collecting comments on the new legislation. We need to collect as many emails in support of us as possible. Can you send an email in support of us to: Helder.Gil@dc.gov
The sellers also include a template that potential e-mailers could use. While they don't mention which business improvement districts are lobbying for the ban, we figure better safe (and stuffed) than sorry.
Please, won't someone think of the cupcakes/tacos/sandwiches/freedom?
---
Fan, Follow and Text: Get the latest from NBCWashington.com anytime, anywhere. Follow us on Twitter and Facebook. Sign up for our e-mail newsletters and get breaking news delivered right to your mobile phone -- just text DCBREAKING to 622339 to sign up. (Message and data rates may apply.)