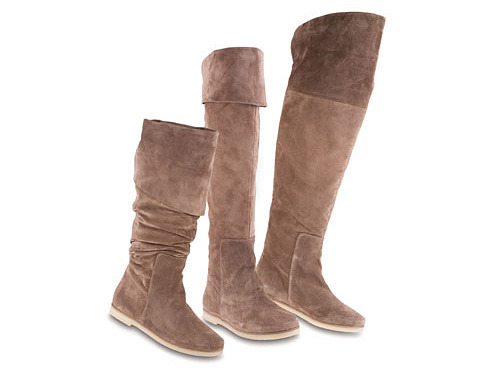 FREE TO BE: We usually like to keep our goodies in the "actually attainable" range, but we just can't stop looking at the suede "Relax" boots by Bettye Muller, available at SimplySoles (1438 Park Road N.W., or online). Sure, they're half a month's rent 'round these parts, but buying these uber-versatile boots is like getting three boots in one. (Yes, we're just trying to convince ourselves.) Kassie Rempel, SimplySoles guru/owner says: Scrunch 'em down over tights or jeans, fold the cuff for a traditional knee-high look or unfold the cuff for the season's over-the-knee trend. We'd be down with all three.



GET A BACKBONE: Never X-rayed a tie before? You might be shocked at what you'd find! Case in point: the Skeletie ($30). Says Etsy.com seller Toybreaker: "An elegant take on the kitschy and campy Halloween shirt. For grown-up Goths, osteopaths, chiropractors and more!" The microfiber tie is printed with non-toxic water-based ink, which won't crack over time. Choose from standard or narrow.



FEARLESS FACE: Kiehl's (3110 M St. N.W.) new Acai Damage-Repairing Skincare collection is made with antioxidant-rich acai berry, which counteracts physical and environmental damage, casts aside dead skin cells and promotes the growth of new ones. The new, all-natural skincare line includes cleanser ($24.50), toning mist ($26), damage-repairing serum ($48) and damage-correcting moisturizer ($44).