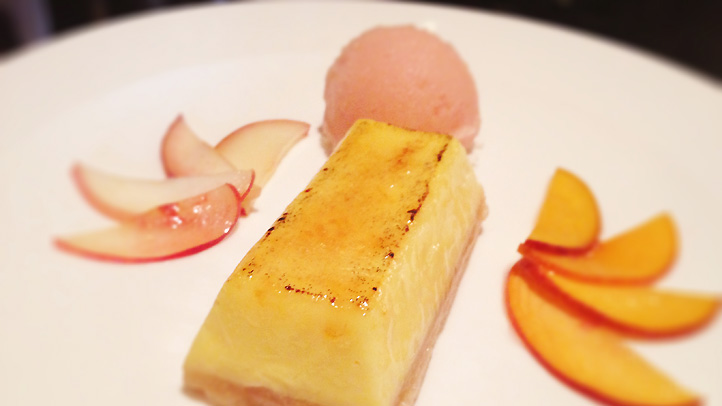 There's just something about peaches and their symbiotic relationship with summer. When you see those fuzzy little fruits ripen, you know summer has fully arrived.

August is National Peach Month, and Georgetown's 1789 Restaurant (1226 36th St. NW) has incorporated three new peach dishes in their menu for the occasion.
A standout is the peaches and burrata ($14): thinly sliced peaches drizzled with aged balsamic, served with grilled bread and imported Burrata. I loved the simple build of thinly sliced peaches, slightly crunchy bread and the milky smooth sooftness of the burrata.

The Boot's Best themed cheese plate ($11), a selection of Pecorino Romano (Sardinia, Italy) and Taleggio (Lombardia, Italy) -- served with coriander raisin toast, spiced walnuts and peach thyme jam -- is a pretty basic appetizer, but there's nothing basic about that jam. The sweet texture is better than any sugary treat I've had this sumer.

My favorite dish, though, was the summer peach crème brulée ($9, pictured): Saint Germain macerated peaches, almond butter cake and peach Prosecco sorbet. The almond butter cake had an airy softness to it, which blended perfectly with the peaches.
If I didn't have to fit into a formal dress soon, I would have eaten a dozen orders on the spot. Then again, peaches are fruit, and fruit is healthy... right?
---
Check Out the Scene: Keep up with what's happening in the D.C. area anytime, anywhere. Follow us on Twitter and Facebook. Sign up for our e-mail newsletters.