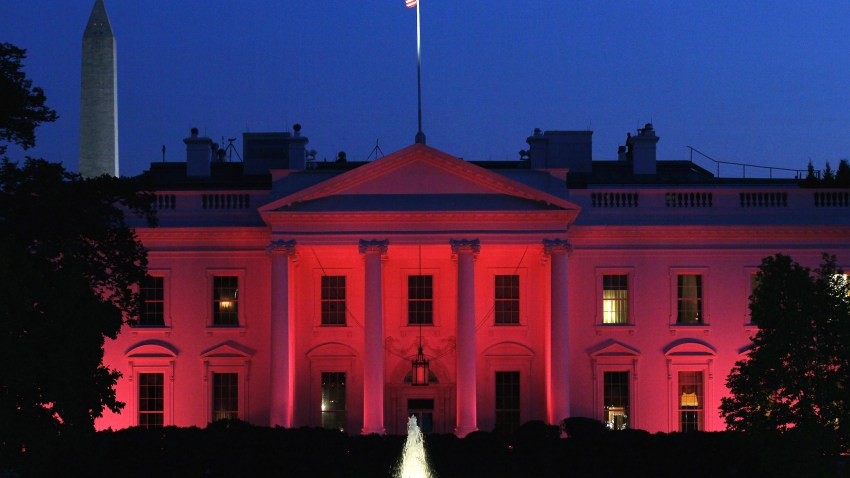 The place is universally recognized simply by the color of its exterior paint. Thursday night, however, in honor of Breast Cancer Awareness Month, 1600 Pennyslvania Ave. N.W. wasn't its usual color.
Beginning at 6:30 p.m., the White House was blushed in sparkling pink for breast cancer awareness. The main entrance to Vice President Joe Biden's official residence at the U.S. Naval Observatory also was to be lit in pink Thursday night.

Nearly 40,000 American women die each year from breast cancer alone. National Breast Cancer Awareness Month was established 25 years ago to educate people and raise funds for research.

Last year at this time, the Obamas hung a large pink bow on the Pennsylvania Avenue side of the White House.

This year, they've chosen to follow the 2008 observance led by then-First Lady Laura Bush, who had the entire White House bathed in pink lights in recognition of the "mothers, daughters, sisters and wives who struggle with this disease." Pushing the button that changed the White House to Pink, Bush said, "May our lights tonight shine as beacons around the world, a signal of the United States' commitment to saving lives for breast cancer."

On Thursday night, for only the second time in history, the U.S Presidential Mansion became, at least for a few hours, the Pink House.
---
Let's Go Around Town: Keep up with what's happening in the D.C. area anytime, anywhere. Follow us on Twitter and Facebook. Sign up for our e-mail newsletters and find out What You're Doing Tonight with texts delivered right to your mobile phone -- just text DCTONIGHT to 622339 to sign up. (Message and data rates may apply.) Don't forget our iPhone app!