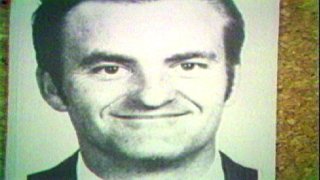 To get on the FBI's Ten Most Wanted List takes a horrendous crime, a notorious fugitive and a team of investigators determined to get their guy on the Bureau's most famous list of names.
Special Agent in Charge Steve Vogt is the man who pushed to get William Bradford Bishop Jr. added to the Ten Most Wanted List.
"This investigation has special meaning to me," Vogt said. Vogt grew up in Maryland and was ten years old when the murders happened – the same age as one of victims – middle-child Brenton Bishop.
"I remember reading about [the] children in their pajamas and they were the same age as me," he said. "I remember them talking about the towels being wrapped around their heads and thrown in a station wagon and taken to North Carolina. It really struck me."
He wasn't alone. Montgomery County Sheriff Darren Popkin and officers with the Montgomery County Police Department had also grown up in Maryland wondering what happened to Bishop. "We all grew up around the same time and it impacted us all the same way," Vogt said.
So, when FBI Headquarters sent out a solicitation for candidates to add to the Ten Most Wanted List last year, Vogt said he personally asked Sheriff Popkin and Montgomery County Police Chief Tom Manger if they would support Bishop's nomination. They all quickly agreed.
"Bishop, in my mind, should be on this list," Vogt said. "Someone who's indicted for killing his family, three young boys, his wife and his mother. And then taking off."
But it wasn't that easy. Special Agents in Charge from all over the country also submitted the fugitives they most wanted to capture. Typically, the only way to get a spot on the list is when a fugitive is captured or dies.
And for many years, Bishop didn't "need" to be on the list, according to Vogt. "Growing up in this area, it had huge publicity. It was all over the papers. National news," he said.
He says Bishop's wanted poster could be found everywhere, in the local post office, schools, even the hardware store. "There was no need to publicize it at the time," he said.
But now that nearly four decades have passed, Vogt said, "things like this can be forgotten." Now, he said, is the time for another nationwide media blitz.
"That's the kind of person who should be on the Ten Most Wanted," he explained. "Violent criminals like this, the only way to catch them is with the public's help."
The FBI maintains several lists, including a "Most Wanted" and "Most Wanted Terrorists" list. But the most famous is the Ten Most Wanted List, originally created in 1950 after a reporter asked J. Edgar Hoover for a list of the "toughest guys" the FBI would like to capture.
According to the FBI, the list received so much attention, Hoover decided to make it a permanent program. Using publicity and resulting tips from the public, the FBI says 94 percent of the more than 500 fugitives on the list have been captured or located.
Now that he's on the list, Bishop instantly becomes the oldest fugitive ever added to the Ten Most Wanted. He disappeared when he was 38 years old and is now 77.
James "Whitey" Bulger was previously the oldest person added. Involved in organized crime and convicted for eleven murders, Bulger was 69 years old when he was added in 1999 and 81 when he was arrested in 2011.
Vogt said that, as in the Bishop case, many assumed Bulger was hiding in Italy or Europe. Also like the Bishop case, some "thought he might be dead. And he's living in Santa Monica in California in an apartment."
It's proof the Ten Most Wanted List "does work," Vogt said. "The key is to put the face out there. We know he's 77 years old. We don't give up. The FBI doesn't give up. The Montgomery County Police, the Sheriff, we don't give up. We will do everything we can to capture this man."