The News 4 I-Team obtained records revealing dozens of D.C. landlords who said they didn't receive promised rent payments under a COVID-era rent relief program. It's been years, and those D.C. government records now suggest there could be nearly $800,000 of your money misused.
The landlords said after getting little help from D.C. agencies, they turned to the I-Team for help.
John Jones is one of those landlords. He owns a two-bedroom, one-bathroom apartment in Southeast D.C. His tenants have been there for years, but Jones said they haven't paid rent since September 2020. As COVID-19 set in, Jones and his tenants both applied to the STAY DC program.
STAY DC was a $352 million program designed to keep vulnerable D.C. residents from being evicted. The money, awarded to cities across the country by the US Treasury Department, was supposed to be used to pay rent and other housing related costs during the pandemic.
We're making it easier for you to find stories that matter with our new newsletter — The 4Front. Sign up here and get news that is important for you to your inbox.
Jones' tenants were approved. Despite clear program rules that checks were to be sent to the "housing provider" or landlord, in Jones' case, the $14,300 in back rent was sent to his tenants. D.C. records obtained by the I-Team show a D.C. Department of Human Services (DHS) investigator believed Jones' tenants "misused STAY DC program funds." A DHS email Jones provided the I-Team said the tenant cashed the check on Oct. 5, 2021.
The I-Team's calls and texts to Jones' tenants went unanswered. During two visits to the apartment, the I-Team was unable to locate them.
"The level of indifference … is truly disappointing"

Local
Washington, D.C., Maryland and Virginia local news, events and information
Jones hoped someone within the program would help him get the money STAY DC said he was owed. So far, no one has.
"The level of indifference that I've just been met with is truly disappointing," Jones said.
As he waits, he said the tenants still haven't paid any rent. Jones said he has now documented nearly $40,000 in unpaid rent. STAY DC is only responsible for $14,300 of it.
The I-Team wanted to know how it happened, why and what DHS, the program's sponsor, was doing to correct the errors. The last email from DHS to the I-Team said, "Your request (for an interview about STAY DC issues) is still being vetted internally. We will follow up as soon as definitive guidance is shared regarding next steps."
That was weeks ago. There's been no follow up from DHS.
The DHS records we obtained show the list of 71 cases flagged by their own investigators where funds were potentially misused and sent from DHS to the D.C. Office of the Inspector General. Months after that, neither Jones nor the I-Team can figure out what the OIG is doing with the cases.
In 55 of the cases, DHS investigators suspected tenants misused the money. In a handful of others, it was the landlord. In roughly a dozen, DHS couldn't determine.
The I-Team obtained OIG documents showing the agency – D.C.'s internal watchdog – has closed five STAY DC cases. They found no wrongdoing in any of those.
"You can't overlook one case"

After reviewing the I-Team's findings, David Williams, president of the D.C.-based Taxpayers Protection Alliance, told the I-Team, "You can't overlook one case of potential waste, fraud or abuse in any system."
Williams suggests even though STAY DC may have helped thousands, overlooking any wrongdoing cheats tenants, landlords and all taxpayers.
"Just knowing the money was misspent is the first step in the process, but people want to know what's the second step," Williams said. "How do we get that money back and how do we prevent it from happening again?"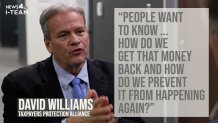 "That's not on their agenda"

Robert Butler is another D.C. landlord caught in the STAY DC cycle.
The News4 I-Team first profiled Butler last spring when he said he almost became homeless himself after his tenant wouldn't pay rent, cashed a STAY DC check for $23,488, but only gave him $5,000. Butler described it as "devastating because, like I say, it has a relatively bankrupt(ed) me."
Butler said he's losing hope D.C.'s $352 million program might ever find a way to get him the money he's owed.
"That's not on their agenda," he told the I-Team.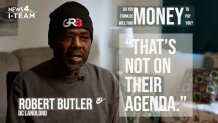 Despite contacting D.C. council members, DHS administrators and OIG representatives, none of those departments has identified a source for funds that could be used to pay Jones, either.
The I-Team found there might not even be a process to pay these landlords back.
"This issue is bigger than me," Jones said. "There are plenty of other landlords and residents of Washington, D.C., who are dealing with this massive fraud."
After two-and-a-half years of nonpayment, Jones is trying to evict his tenants. He couldn't get a hearing for months.
The I-Team checked at DC's Eviction Courts. As of early March, the court says there are 6700 pending evictions.
Reported by Ted Oberg, produced by Rick Yarborough, and shot and edited by Steve Jones.