Rush hour is shifting earlier in the morning for long-distance Washington, D.C.-area commuters, according to a review by the News-4 I-Team. The trend is increasing the volume of predawn traffic on major highways but also potentially increases the danger of drowsy driving.
Traffic data obtained from transportation departments in Virginia and Maryland show up to a 10 percent increases in vehicle traffic during the 5 a.m. hour at several major stretches of highway since 2010: Interstate 95 at the Caroline County-Spotsylvania County, Virginia, line; Interstate 95 in Fredericksburg, Virginia; I-495 westbound in Montgomery County; U.S. Route 50 in Prince George's County at Maryland Route 202; and I-95 in Howard County, Maryland.
Though no federal or state agency reports proportional increases in traffic accidents, a major university study shows drowsiness is frequently contributing to car crashes in the Washington, D.C., region.
The investigation, conducted by the Virginia Tech Transportation Initiative, studied more than 100 D.C.-area drivers over the course of months. Virginia Tech Transportation Initiative research scientist Charlie Klauer said approximately 20 percent of those drivers suffered an accident in which drowsiness was a factor.
"(People) aren't getting enough sleep during the normal work week," Klauer said. "There are also a lot of undiagnosed sleep disorders that people are experiencing that they're unaware of."
The I-Team, under the direction of Klauer's research team, underwent sleep deprivation in April to record the impact and severity of drowsy driving. The I-Team designated one member, reporter Scott MacFarlane, to restrict himself to less than two hours sleep over the course of two days and to avoid any caffeine. While experiencing the peak level of fatigue, MacFarlane was guided on a two-hour driving exam by Klauer on a closed, safety course in Blacksburg, Virginia.
MacFarlane failed three of the four challenges during the test, including mistakenly striking a cardboard cutout of a child, placed on the course by researchers. During his exam, MacFarlane displayed several noticeable symptoms of fatigue, including fidgeting, yawning and rapid eye blinking, according to the Virginia Tech research scientists.
"I think people are unaware of when they're really fatigued," Virginia Tech researcher Jeffrey Hickman said. "They're very poor at being able to identify that."
Klauer said there are several things drivers can do to help fend off fatigue, including taking a 20 minute nap.
Tips for Staying Awake While Driving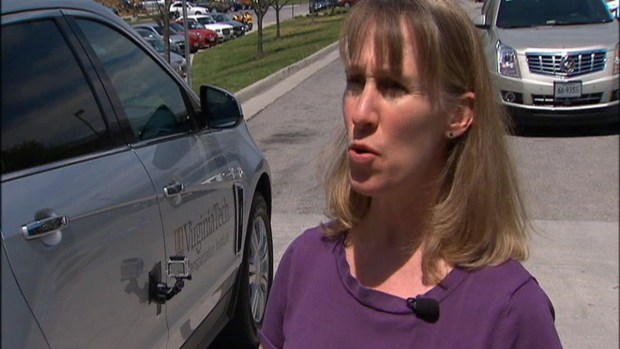 Reported by Scott MacFarlane, produced by Rick Yarborough, shot and edited by Jeff Piper