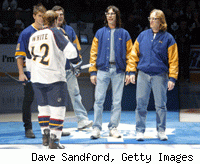 Situated within (almost) comfortable driving distance from the political hustle of Washington, D.C., the Sea Crest Beach Hotel (350 Quaker Road, Old Silver Beach, North Falmouth, Massachusetts) provides a soothing Cape Cod visage to weary workers during the dog days of summer.

More than 250 fully renovated guestrooms and suites are available throughout the summer. While the Atlantic Ocean-facing rooms are desirable for their pristine, unobstructed views, the walls and ceiling construction are painfully thin. Every walking step upstairs clunked clearly like cinders being dropped -- so we have another recommendation for you.

Instead of choosing the views, select either the "Hot Foot" or "Madcap" guest rooms. Merely a few feet away from the waterfront rooms, these single-story rooms are infinitely quieter. An additional option would be the Pinterest-worthy, three-bedroom cottage with its own private backyard with Adirondack chairs and a firepit.

After dropping the bags off, head straight to the Old Silver Beach with drinks and a delectable lobster roll from Red's Restaurant at the hotel. Indoor and outdoors pools are also an alternative to the seawater.

Also, you should definitely consider the 30-minute drive to Pain D'Avignon (15 Hinckley Road, Hyannis, Massachusetts), a café and boulangerie that transforms into a bar at night. This adorable café came recommended by the White House pastry team, and offers some of the best treats around.

The fabulous pastries include a brownie so dense with sweet flavor that you may be hard-pressed to enjoy one anywhere else in the future. For savory fare, try the pizza du jour ($11) grilled with sensationally fresh vegetables.

Additionally, the Sea Crest Beach Hotel is close to Provincetown, as well as Martha's Vineyard. A 20-minute drive to the ferry will have you on Martha's Vineyard for a full day's worth of fun, exploring and eating.

Your first stop off the ferry should be a hard left toward M.V. Gourmet Café & Bakery. Home of the famous Back Door Donuts (5 Post Office Square, Oak Bluffs, Massachusetts,), the bakery has a line to get the fresh out-of-the-oven donuts that begins at midnight -- and it is a very long line.

If you would rather drink than eat donuts late at night, then stop by in the morning for the still-delicious apple fritters ($4). Essentially the circumference of most people's heads, the apple fritter pulled away in sugary, buttered goodness. I barely managed to eat a quarter of it!

Then head over to the Seafood Shanty (31 Dock St., Edgartown, Massachusetts) for their amazing roof deck bar and anything on their menu with lobster in it. The steamed lobster is market price (around $34) and the lobster roll ($18.99) has huge chunks of lobster meat perfectly cooked and seasoned.