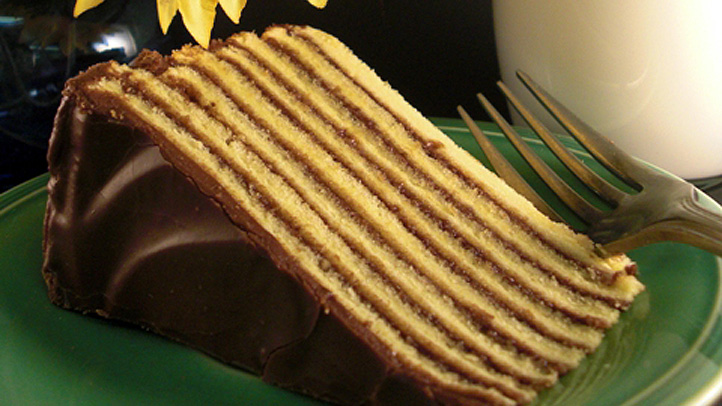 Icing a cake might seem elementary but when you're dealing with a not-so-average cake -- ahem, the official dessert of the state of Maryland -- you can't ice a Smith Island Cake half-heartedly.
Smith Island is only a stone's throw from D.C. (roughly an hour), and actually consists of three islands, each one with their own fishing village: Ewell, Rhodes Point and Tylerton. It's here that the Smith Island cake became a household name and the area's most famous dish.
The original cake recipe, supposedly made by an innkeeper on the island, usually consists of yellow cak, at least 10 layers, with a cooked chocolate icing. Other flavors like coconut, strawberry, lemon and orange are known to be just as tasty.
Not interested in whipping up those 10 layers on your own? Instead, pay a visit to the
Original Smith Island Cake Co
. (12741 Ocean Gateway, Ocean City, Md.), which feverishly bakes this most famous Maryland dessert using the original recipe.
Red velvet, chocolate peanut butter and raspberry truffle are also among the different Smith Island cake flavors up for purchase and/or salivating over. We're assuming the bakery gets a lot of frothing-at-the-mouth moments.
Spring hours of operation are 11 a.m to 5 p.m. daily.