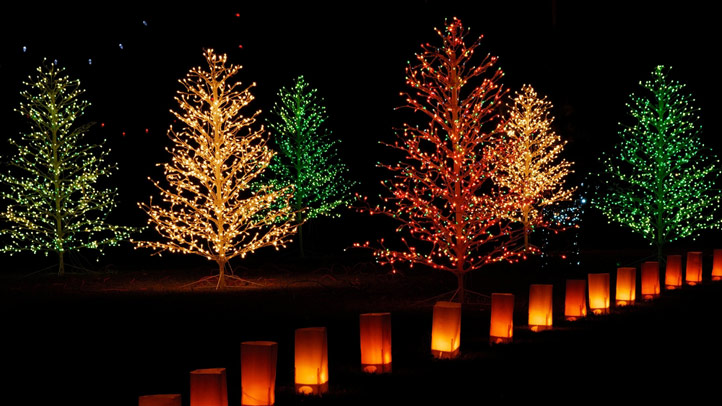 Instead of cruising around the neighborhood hoping to come across Christmas decorations that didn't come from the CVS down the street, consider hitting Annapolis for a serving of holiday cheer.
The annual Lights on the Bay event offers a two-mile scenic drive along the Chesapeake Bay at Sandy Point State Park (1100 E. College Parkway, Annapolis, Md.).
The Western Shore park, known for its breathtaking views and boating, crabbing and hiking opps, provides a nice alternative to local neighborhood decoration tours, with 60+ animated and stationary displays, featuring Santa and Maryland-themed scenes.
Admission is $14 per car, and as you drive, you can tune into holiday jams on the radio (as though this will be your only chance to hear those this season... um, never mind). Buy a set of 3D glasses for $3 to discover hidden images within the displays throughout the drive-through lights show. (Maybe for the nondrivers only.)
Runners can participate in the 5K Dashing the the Show on Nov. 19, the display's first day. Registration will be done on-site at 5:15 p.m.; the race begins at 6:15 p.m.
Kids can participate in scavenger hunts, offered nightly, and they'll have the chance to meet and greet with Santa, on Thanksgiving Day and every weekend through Dec. 24.
If you're feeling extra spirited/spendy this season, you can book a private tour to take you and up to 23 of your closest friends on a special Holley Trolley ride for $215. (OK, not that spendy -- if everyone shows up, it's only $8.95 per person.)
The Holley Trolley will come to your home, office or wherever else to collect you and your comrades in style, which obviously includes more Christmas tunes as you travel to Sandy Point.
Lights on the Bay runs Nov. 19 to Jan. 1, from 5 to 10 p.m. nightly, weather permitting.