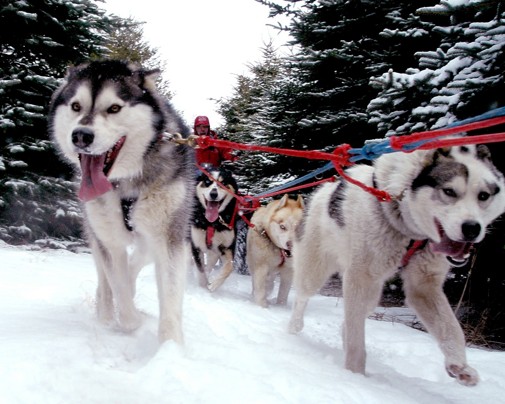 Don't let the name of the town deter you. The town of Accident, Md., is home to Husky Power Dog Sledding, your opp to go dog sledding only about 175 miles from downtown D.C.
OK, it's not quite the Iditarod, but you can still spend some time (3-4 hours) with Siberian and Alaskan huskies as they wind and twist you through the wooded forests and logging roads of Maryland.
Husky Power Dog Sledding isn't like most dogsled-touring companies, which push large numbers of people through for rides on an hourly basis. The owners, Linda and Mike Herdering, prefer to give guests a "fun-ucational" (we don't think that's a word) experience by combining the joys of mushing along with a little Dog Sledding 101. Do you want to book your trip but there's no snow for mushing? There's an alternative, the "Touri", which is a dog sled on four wheels.
You'll test out the equipment and harnesses, learn about the types of sleds they use, and also hear interesting stories about dogsled history. You can even get your photo taken with your favorite husky (<3).
If you're not the mushing type, you can opt for just a kennel visit. The tour costs ($100 for 1-5 people). Guests can mingle with all the huskies to see how they live, work and train.
Rides are available October through April, on Wednesdays and Fridays through Sundays, weather and temperature permitting (call first if you're unsure.) Start time for mushing is 10 a.m.
Rides are $195 per two to four people, or $275 for a single rider.
And, just because we can, here's the best video we've ever seen (at least for this week):