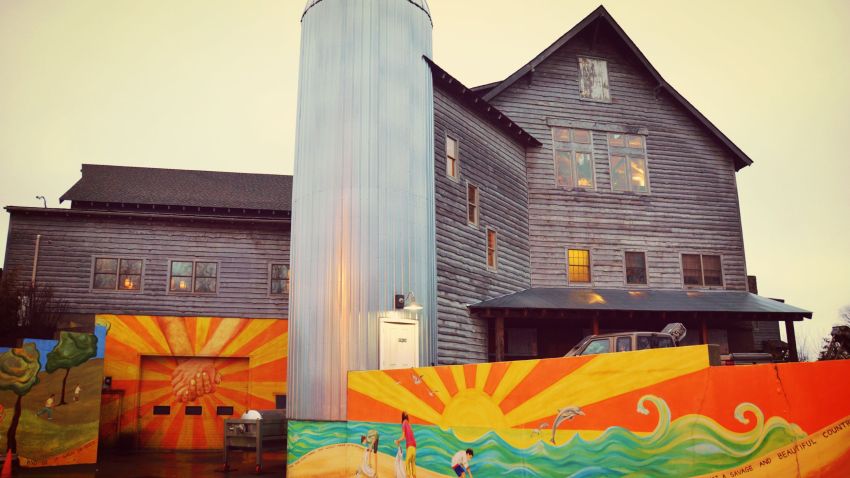 For the latest installment of Wine Wednesday, we traveled beyond the DMV to a New Jersey town called New Egypt. This cornfield-surrounded, coast-neighboring town may lack size, but it more than makes up for it with the charming Laurita Winery.
Laurita Winery is located about three and a half hours from downtown D.C., and is one of the most imaginative wineries we've come across.
Before you even step in the door, you can see the creativity that the owners Randy Johnson and Ray Shea invisioned. The north exterior walls are covered in meaningful and artistic murals reminiscent an urban art gallery -- a refreshing change of pace from many other wineries I've visited. Beyond the mural is a park for children and families with grills, picnic tables and huge solar patios that serve as a reminder that even the countryside thinks green.
Inside the doors is an expansive, two-level tasting room and the winery's dance floor, used for their weekly events. Case in point: We decided to try our hands(and feet) at line dancing. Admittedly, we weren't very good, but it was still fun to watch the pros.
Other events include a '70s/'80s dance party, live music and the weekly Pizza and Wine Fridays event, with special discounts on wine selections.
If dancing isn't your style, just head to the second level to peer down on the dance floor and imagine yourself letting loose, because you may be like us when all you want to do is drink a little wine and relax.
After watching the two-steppers wear out the dance floor, it was time to indulge in some of what I had come for: the wine. The winery's 44 acres yield a selection of Merlots, Cabernets, Pinot Grises, Lembergers, Chambourcins, Nortons and Zweigelts. Of the seven wines we tasted, the Merlot was the most memorable, with a taste and aroma of dark spice and a mildly bitter aftertaste. And for the summer months, they use their Tailgate Red as a base for their sangria blend, which I've heard described as "perfect."
New Jersey also has the Wine Passport which is a booklet you are given that gets stamped each time you visit a winery. You can mail in the passport and be entered in a raffle to win vacations at the end of the year.
Laurita also includes lodging and an equestrian center -- helpful for those of you that would rather make it a weekend trip than a day trip. At the Inn at Laurita Winery we stayed in the very purple, very bright Butterfly Room, because the only thing worse than dreary weather is dreary weather and a dreary room, right?
The 10-room inn dates back to the 1830s and is chockfull of charm, hospitality and homemade meals. (Ask the innkeeper, Janis, about Taylor pork roll vs. the Jersey pork roll). If you find yourself near New Egypt, N.J., it would be a disservice to yourself not to go.
Laurita Winery and the Inn at Laurita Winery are located about three half hours from downtown D.C. at 35 Archertown Road in New Egypt, N.J.