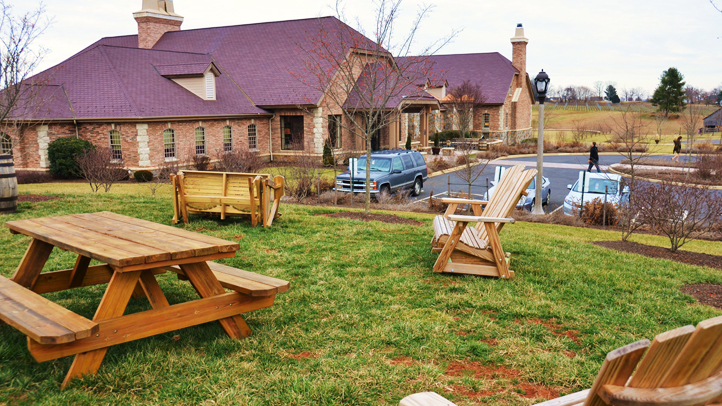 We know that wine is the focal point -- but the building that Early Mountain Vineyards (6109 Wolftown-Hood Road, Madison, Va.) calls home is one of the few, if not only, wineries we've been to with such a vast selection of modern facilities.
If you want an indoor wedding ceremony... no problem, done. You'll also find a guest cottage, event hall and private tasting/dining hall. This place is huge with the perfect backdrop: the Blue Ridge foothills.
But for most of us, all we're coming to do is taste good wine and munch on good eats. We were surprised when our sommelier asked us if we wanted any food from the menu.
"Menu?" we asked. We were used to a few cheese selections or a bag of chips. Once we saw the
wide selection
of delicacies, we knew this was going to be a delicious day. We chose a grilled eggplant panini and spinach-artichoke dip, and for dessert, a warm carpe doughnut with ice cream.
As for the wine, choose from the following flights: Early Mountain; Bright Lights and Bubbles; Red, White and You, or Red Berry Pickings. We chose the Early Mountain because... well, look at the name: It consisted of the wineries' own offerings. The other flights featured a mixture of the "best of Virginia" wines from vineyards such as
Breaux
and
Paradise Springs
.
Flights are $12 each, with four wines in each flight. Special Valentine's Day flights include a pairing of wines with
Gearhart's Fine Chocolates
for $18 per flight.
Early Mountain Vineyard openat 11 a.m. daily, except Tuesdays. Most days it closes at 5 p.m but if you want to make an evening of it, head out on a Friday, when they stay open until 8. The winery is located about two hours from downtown D.C.