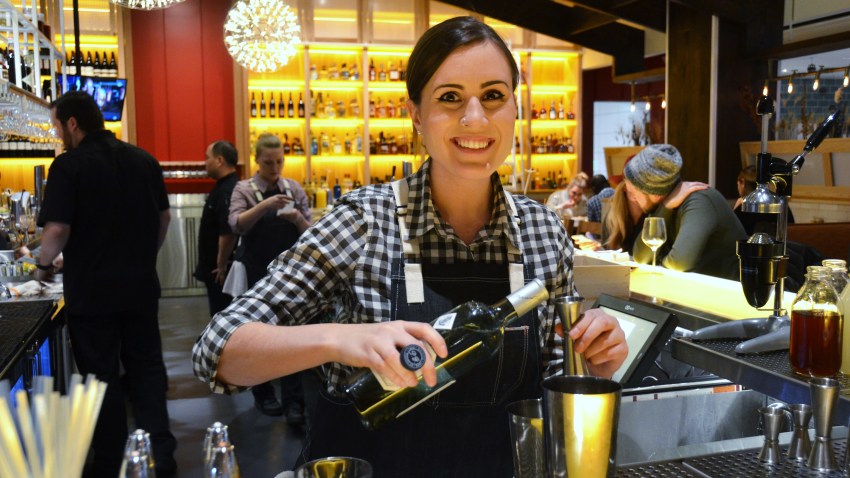 "Welcome to the farm," our waiter, CJ, says as he greets us. It's a phrase we've never heard before at any restaurant, but we embraced it because we knew that when someone at Founding Farmers says, "Welcome to the farm," they mean it.
Ninety percent of the products the restaurant uses are from family-owned farms in the U.S. But don't let Farmers fool you into thinking its food is simple.
The restaurant goes out of its way to create one-of-a-kind dishes, including our pan-seared steak with roasted oranges and a tasty, made-from-scratch Hibiscus soda.
Founding Farmers doesn't want to be another restaurant chain. Each of its restaurants strives to remain true to its own farm-fresh style, focused on its location. That includes the newest location, at Tysons, which opened Thursday.
Back in 2008 a group of farmers from the North Dakota Farmers Union teamed up to create a better way for the farmers of America to reap the benefits of their hard work. They wanted to cut the middleman out and start selling food directly to the consumer.
Now, Founding Farmers serves more than 11,000 patrons per week at its busiest restaurant with yearly profits around the $35 million mark -- sending millions back home to the 40,000 members of the North Dakota Farmers Union.
It's not a fairy tale, though; there were many struggles in the beginning, "We learned from mistakes and now were trying to avoid them at all costs," says Mark Watne, NDFU President.
More of our interview with Mark Watne below:
Where did the concept for bringing a restaurant to the D.C. area come from?
"It started six or seven years ago with a group of farmers -- it wasn't just the farmers' union at the time. We put together a concept of how we were going to get our food directly to the consumer instead of making it another commodity and selling it at a commodity price. Opening a restaurant wasn't the easiest choice, but it was the most obvious way to get directly to the consumer.
"We looked into eight locations and scored them on a level of acceptance as a place of importance to the consumer. Baltimore, Portland and Denver were all in the mix. D.C. was chosen because is was somewhat recession-proof, when there's a recession people tend to come to D.C. to fix things and along with that, you have a lot of people that eat out. So it was really to make the concept work the most successfully right away."
Were you successful right away?
"We struggled at first. Farmers Fishers Bakers (formerly Agraria) didn't do well right away; it was our problem child. We also started out with other managers, and we found that having good management is the key to success.
"We had to make changes and brought in Dan Simons and Mike Vucurevich from VSAG (Vucurevich-Simons Advisory Group) to help smooth things out. Before we had Mike and Dan on board, we had a concept that was run through some restaurant groups that helped us. What we ended up with was a restaurant that was trying to be too close to fine dining with prices that were too high and food that was down a level or two -- needless to say pricing was an issue.
"We couldn't continue that for very long because we were losing a fair amount of money. Dan and Mike came in to do an assessment and what they said was, 'Why don't you build a restaurant in line with what your business plan said?' Our management at the time was taking it in a different direction. Within four months after that meeting, Farmers was cash-flowing.
"Unfortunately or fortunately, Farmers Fishers and Bakers was flooded because the flood walls weren't put up at the harbor. All the lower-level restaurants in the harbor area were also flooded. We rebuilt Farmers and Fishers three times. Now it's performing like a charm, serving about 8,000 customers every week. You have to fail a little bit to learn and that's what we did. We learned from mistakes and now were trying to avoid them at all costs."
What were your next steps after the first opening?
"After we did the first two restaurants in D.C., Founding Farmers (1924 Pennsylvania Ave. NW) and Farmers Fishers Bakers (3000 K St. NW), we decided to license restaurants. The NDFU formed FRG, Farmers Restaurant Group. We started licensing restaurants out to get a certain percentage from the sales. VSAG remains the project manager while we maintain the license, so we don't lose the concept.
"Founding Farmers serves about 12,000 per week so it takes a lot of managing skills. I give a lot of credit to what we have to Dan and Mike, which is why they are part owners in FRG. They delivered well. As far as cash flow is concerned, the NDFU owns about 90 percent of Farmers and the other 180 members own the rest. They pay NDFU out the cash flow that they can while still taking capital to D.C. to work the restaurants. In return we distribute those earnings back to the NDFU and our members."
Why is Founding Farmers so popular?
"The connection is the family-farmed foods that come from America. People also like knowing a little more about their food. You also can't make the mistake of having good service with low-quality food. When you come to Founding Farmers you get good food and good service. When you leave you feel like it was money well spent. There's a connection between value and quality and we're doing pretty well on both."
Your restaurant motto is "True Food and Drink." What does that mean?
"We're really into trying to label all food. It's something we have really struggled with because we're being challenged by the World Trade right now, who are telling us we can't label our products because it creates trade barriers. For example, if you look at extra-virgin olive oil, they have 'Made in Italy' written all over bottles -- and China, they label everything that comes to the U.S. But the U.S. tends not to label food.
"You can find it on your clothes but not on your food. So we're trying not only to do that legislatively but we're also trying to do it in the marketplace. We let consumers know that when they come to Farmers, we're going to source as much of our products from family farms as possible -- and we're on track to being over 90 percent pure on that. There are a few spices that you can't get in the U.S., and the occasional banana that you just can't get here, but eventually we'll get close to perfect. When we get more restaurants beyond the four, we'll get a logistics system together to send a lot more product out here and be able to identify its source all the way from the family farm or ranch it was raised on."
What other business ventures do you have in mind for Founding Farmers?
"We're developing more products, including rye whiskey and our gin. We're looking at putting up another distillery for some vodka or getting some whiskey in from another region, maybe even North Dakota. It may be called Founding Farmers and Distillers with a small distiller located in the restaurant to build and expand our concept.
"All our restaurants will have the same vibe and atmosphere with the same high-quality food, but we hope to have menus that are different that contain a different variety of products. We always want to know it was made 'here,' wherever that restaurant may be -- instead of a corporate structure like chains have. We don't want everything identical. Our menus will always give little cues as to where the food came from, too."
How are family-owned farmers involved with Founding Farmers?
"Some of the potatoes are coming from the Red River Valley -- if you're from Minnesota you know it's known for very fertile ground. It's an excellent area for crop. North Dakota is also the #1 producer for honey. If there are products we can get out to D.C. logistically and still make them competitive, we'll bring them from North Dakota.
"Another example is that we grow hard red spring wheat in North Dakota, and a lot of the winter wheat grown in Nebraska and Kansas uses North Dakota wheat to blend those wheats up to a level specifically for high-quality pizza dough and bread for bakers. We ship a thousand pounds of bread and pizza dough flour from our North Dakota State Mill and Elevator every week -- which happens to be the largest flour mill in the United States."
Tell us about the Founding Farmers Cookbook.
"We've found that people like to try the recipes at home, and come back to the restaurant to see how well they did in comparison. The book is another marketing selling point that we're currently looking at expanding. We'd like more versions to include desserts and some of our mixed drinks. It's all here to grow the brand."
You travel to D.C. a lot. How do you feel about the big city?
"I get out to D.C. quite a bit. I'm not used to all the wait times and people, but we do all kinds of work with legislature so it's fun to come here. I live about 90 miles out of Fargo, North Dakota in a town called Jamestown. Fargo is our big city and I love it because as far as traffic is concerned you just go when you want to go. There's no traffic to be stuck in, unlike the traffic in D.C. "
Are there any restaurants in North Dakota that see the level of success as Founding Farmers?
"We have a few fancier restaurants in Jamestown and the Fargo-Moorhead area. But North Dakota ... some people are going to hate me for saying this ... it's like we're five or ten years behind the way things change. We like the chain restaurants. We are starting to see more brew pubs with specialty beers, and there are people talking about putting up little distilleries. A lot of the main street downtown-type restaurants that are owned locally are just starting to come to both Fargo and Bismark.
"We have a real nice restaurant in Jamestown, a town of 15,000, that struggles but it's beautiful inside. We want it to succeed so bad because it's a good option. It's definitely changing but then it's not quite as fast as you see out here. But that's because we don't like to wait more than five minutes to get into a restaurant and we don't like making reservations. It's totally different for us.
"It is also changing because of the big oil up there. Williston, Dickinson -- in fact you wouldn't recognize it anymore. The Wal-Mart doesn't even unpack anymore. They just bring it in on pallets and it sells from there.
"It's gotten to be just a massive system. There are a whole bunch of people that are really doing well, and there are those who are suffering because they have this world that is growing fast around them and they can't afford it. Not everyone has oil out there."
_________________________________________________________________________
Farmers Resturant Group has four locations: Foggy Bottom; Georgetown; Potomac, Maryland; and Tysons Corner, Virginia.