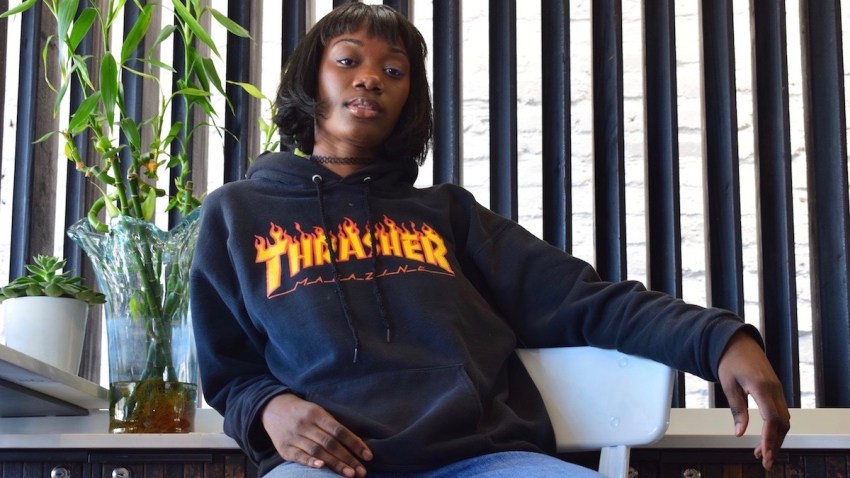 Teta Alim features women doing it big in the D.C. area, from musicians to photographers and more, every Wednesday for #WCW (aka Women Crush Wednesday). Her music obsession continues on Instagram via @duriandad. Catch her in the front row.
Over steady, old-school rhythms, Odd Mojo has an unstoppable flow that carries listeners on a wave of confidence and honesty. But for this 23-year-old rapper from Capitol Heights, Maryland, her bravado is a work in progress.
"I feel like I didn't have a lot of self-love," said Odd Mojo, also known as Mahogany Pearson. "And I really took a deep thinking onto that like, damn, I need to love myself. I need to start saying more positive sh-t. Like, I need to really speak this sh-t into existence."
Odd Mojo hadn't always set out to be a rapper -- she had model aspirations earlier -- but after writing a piece and getting encouragement from a friend, she has gained momentum since 2014.
Last year, she dropped her debut EP, "94," and this year she released tracks in a series called Mojo Mondays, which includes short music videos.
As she works on her next project "Channel Yo Mojo," which is slated for a December release, I caught up with her to chat about her love for D.C., how she started rapping and how she stays motivated.
BOnTop: What was it like growing up in the D.C. area?
Odd Mojo: I feel like just growing up in the DMV, it taught me how to just ... accept sh-t, have tough skin. I also took it as me being real creative because we came up with go-go. That's tight as sh-t! When I used to go to go-gos, I didn't know anybody there. The music just brought us together. It made us, for real.
BOnTop: What do you like about the local music scene?
Odd Mojo: I like that they don't just give you the spotlight for no reason. If you're good, you're good. And they're gonna show other people that you're good. They're not just gonna give anybody the spotlight or just say, "Oh yeah, he raps, he's in the scene." I mean, anybody can be a part of the scene, but you gotta make sure that you're really standing for something and you really want it, you're passionate about it. I feel like the DMV scene shows that and uplifts that. When I was coming up, it was hard for me to get a show ... I feel like we're just the best. We just want the best in this scene. I can't really explain that, but that's what I like about the scene.
BOnTop: How do you think it can improve?
Odd Mojo: I think we should have shows together. Sometimes, if it's a Friday or something, there'll be like five shows in one -- let's put all of that together, let's make a huge festival! Why can't we all come together and talk about how we can throw a show together? Because if we come together that way, it will bring more attention to this area if we were all to come together. For real ... I feel like we should just have one big studio that we all go to and we just help each other. Like, what if it's a new rapper coming up and sh-t, he don't know what to do? We can help him. We can have classes or artist development. Prepare them for shows … so they can know how to perform, how to hold a mic. I think we should have an artist development center here. So we can just all come together and make our city great.
BOnTop: Where are some of your favorite places to go in D.C.?
Odd Mojo: Maketto [on H Street]. I like walking around in Georgetown. I like walking around my neighborhood, actually. I live in Capitol Heights, right by Benning Road and Marlboro Pike, so I get the best of both worlds, like the D.C. side and the Maryland side. I like D.C. a lot. I like just seeing a lot of people outside, looking at people, random couples kissing and sh-t, or a lot of friends out and about. Maryland is kind of quiet so I enjoy that part and I can just relax and just be to myself. But I really enjoy D.C. I feel like seeing other people inspires me. I just love D.C.; I can walk around here, go up the street to the ghetto and I'll still love it like I just like being around people. And it's not too wild. I remember I wanted to move to New York -- phew, girl, New York is actually a lot.
BOnTop: What drew you to rapping?
Odd Mojo: Honestly, I became a rapper because I felt like it would help me love myself better, just rapping about positive sh-t, rapping to other people about what I go through and as if I was to talk to myself, I would rap about that to help me. So, I was like, this can be just some therapeutic sh-t. This about to help me -- and it really did. I just feel like rap is a good way of expression -- music in general. That's what made me say I'm gonna do this, it's really gonna help me.
BOnTop: How would you describe your work ethic? How do you keep yourself motivated to #BOnTop of your game?
Odd Mojo: Listening to my own music helps. Talking to my friends. Just watching interviews. I be watching a lot of interviews like some old Tupac, Kendrick. Music helps though. Dogs really inspire me! After rap and everything is done, I'm gonna open my own f--king PetSmart. I'm deadass. I love dogs that much. I wanna go all out for dogs. I just love them!
BOnTop: What advice can you give to people who are looking to follow a similar path?
Odd Mojo: I would just say, be yourself. Perception is key. And just don't give up; it's a lot of hard work, whatever you want to do. Everything is a come up. You gon' start from the bottom somewhere. It's not just rap … it's with everything. When you know that nothing is going to come easy, you have to work for it. You'll be alright, because you know that you're going to make it when you first think about it. I just want everybody to just believe in yourself and keep going. Don't ever give up. I know it sounds cliche, but it's very true.
Have a #WCW we should feature? Or interested in being a #BOnTop contributor? Email: BOnTop@nbcuni.com