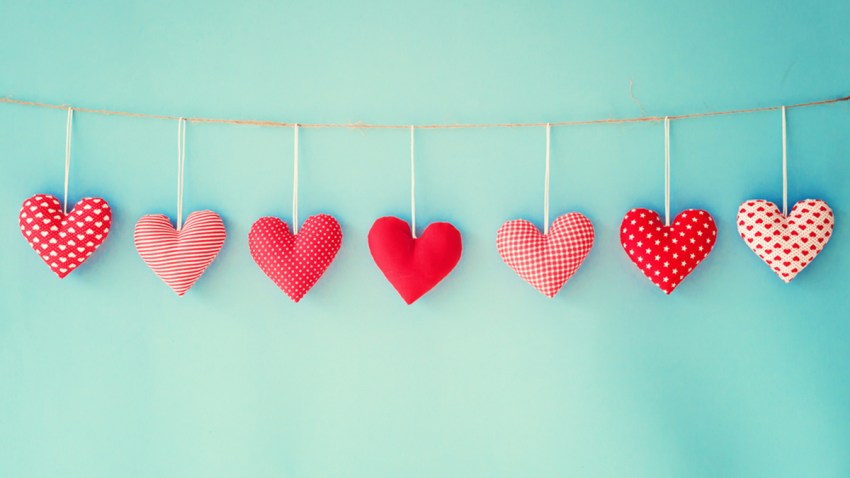 Whether you're spending Valentine's Day with a significant other or with friends this year, take a look at these 11 Valentine's events and deals in the DMV area this weekend.
1. Union Market Valentine's Weekend
Head over to Union Market (1309 5th St. NE) for Valentine's specials throughout the weekend.
Buffalo & Bergen is offering four cocktails for $40 from 5 p.m. to 9 p.m., Friday through Sunday. Call (202) 543-2549 or email amy@buffalobergendc.com to reserve your spot.
Participate in Chris and Alex Perrin's #SweatDate workout at Dock 5 on Sunday from 10:30 a.m. to 11:30 a.m.
Righteous Cheese presents a cheese, champagne and chocolate tasting class Saturday and Sunday from 6:30 p.m. to 7:30 p.m. This event is 21+ and tickets are $79.06; you can buy them online here.
Get Valentine's Day portraits taken at Lab 1270 on Sunday from 10 a.m. to 4 p.m. The package is $82.99; photographer Emma McAlary will photograph customers for 15 minutes and give them three high-resolution downloadable images. Purchase tickets here.
2. "Brunch in Love" at Smith Public Trust
Brunchman D.C. is throwing a Valentine's brunch party Saturday at Smith Public Trust (3514 12th St. NE), featuring brunch chow and mimosas available for purchase from noon to 2 p.m. Four DJs will throw a dance party from 2 p.m. to 6 p.m. This is a 21+ event and tickets are $10. RSVP here.
3. "Black as Your Heart" Dinner at City Tap House
City Tap House (901 9th St. NW) presents an "Anti-Valentine's Day" celebration with a three-course dinner for $45 with optional beer flight pairings of porters and stouts. Call (202) 733-5333 or email lcascone@publichouseusa.com to make a reservation.
4. Glen Echo Park's Red Dress Ball
Singles, couples, beginners and advanced dancers are all invited to to the Spanish Ballroom at Glen Echo Park (7300 MacArthur Blvd., Glen Echo, Maryland) for swing dancing Saturday. The Eric Felton Jazz Orchestra will perform. Tickets are $18 for adults and $12 for those under 18. Swing lessons run from 8 p.m. to 9 p.m., and dancing is from 9 p.m. to midnight.
5. Art Soiree at the Ritz-Carlton Georgetown
The Ritz-Carlton Georgetown (3100 South St. NW) will host a bevy of events leading up to Valentine's Day, starting with a performance by jazz singer Cassandra Allen Thursday at 7 p.m. The event is free; you can RSVP online here.
On Friday at 8 p.m., the annual "Single Valentine" event will feature Philly's Tara Hendricks band and DJ Sabeel Chohan. RSVP to this free event to mix and mingle with fellow singles.
Spice up your weekend with a Valentine's Silent Disco featuring three live DJs on Saturday at 8 p.m. Tickets include headset rental and are $15-20. RSVP online here.
For a more traditional Valentine's Day, enjoy a candlelit five-course dinner while listening to the Lauren White band on Sunday at 7 p.m. View the dinner menu and reservation menu here.
6. Valentine's Day Winemaker's Dinner and Party at Veritas Winery
Veritas Winery (151 Veritas Lane, Afton, Virginia) is offering a five-course meal with wine pairings for $140 per person this Saturday starting at 6:30 p.m. Courses include pan-fried gnocchi, caramelized sweet potato bisque, and chocolate and coffee chili-braised pork shank. After dinner, stay for music and dancing. Find tickets here.
7. Galentine's Brunch at Joe's D.C.
Joe's Seafood, Prime Steak & Stone Crab (750 15th St. NW) is hosting brunch Saturday from 11:30 a.m. to 3 p.m., with half-priced wine by the glass, draft beers and cocktails. Make a reservation here or call (202) 489-0140, and mention "Galentine's Brunch" to get a free glass of sparkling wine with your meal.
8. Pizzeria Paradiso Valentine's Day Extravaganza
Each Pizzeria Paradiso location (Dupont, Georgetown and Old Town) will feature a tap takeover and different beer theme (sour, sweet and chocolate and flower) from noon Saturday to 11 p.m. Sunday. What's better than pizza AND beer?!
9. Valentine's Weekend Special at Vendetta Bocce Bar
Enjoy a "Lady and the Tramp"-inspired dinner for two, available Friday through Sunday at Vendetta Bocce Bar (1212 H St. NE). This meal comes with shared pasta, a half-bottle of champagne and a shared dessert for $35. There are also free bocce ball courts for a fun game with your date!
10. Cupid's Undie Run
If you're willing to brave the cold, strip down to your skivvies and dash a mile for charity for Cupid's Undie Run, which will raise money for the Children's Tumor Foundation this Saturday. The event kicks off at noon, with the run set for 2 p.m. Registration is $55.
11. Crawl in Love Bar Crawl
The Crawl in Love bar crawl will meander through NoMa and Bloomingdale this Saturday from 2 to 10 p.m. The first 100 people to sign up will score coozies, as well as specials at five participating bars: Boundary Stone, Pub & The People, Wicked Bloom, Ivy & Coney and Baby Wale.