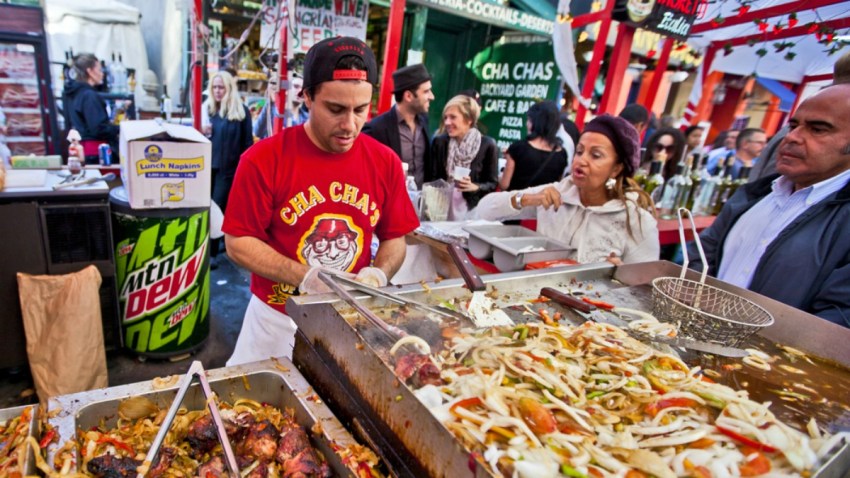 The city of brotherly love is in full bloom. Time to hit the road! Embrace the soulful vibe of Philly at some of their most popular street food festivals this spring. Check out our top picks:
South Street Spring Festival
Let's see: 40 bands, 30 restaurants, 100+ vendors and 27 artists? Sounds like the perfect recipe for spring fun. This South Street Spring Festival gathers the best of the city into 8+ blocks, offering food, music, shopping and family-friendly entertainment. Feel free to bring your kids along to enjoy an expanded Kids Zone, featuring hands-on arts and craft projects and music appearances on the Kids Zone stage. Along with the annual spring festival, German restaurant Brauhaus Schmitz will host their second-annual Maifest, highlighting German beers, dancers, music and food.
The Scene
The most fun things to do and places to be in D.C., Maryland and Virginia
Date: Saturday, May 2 (11 a.m.-8 p.m.); free admission
EATS Philly
You can't beat traditional Philly street food cooked up by some of the finest chefs in the city. Sample a variety of treats from local food trucks and breweries as you watch the region's most popular chefs personalize street cuisine from around the globe. Hosted at the World Live Café by Brian Duffy of Bar Rescue, EATS Philly 2015 is a foodie's paradise. Proceeds from the culinary cook off will go towards improving healthy food access for children in need.
Details: Tuesday, May 5 (6-9 p.m.); tickets $85-$150
Rittenhouse Row Spring Festival
This weekend, experience a unique style of spring festivals with fashion, food and art on Rittenhouse Row. Indulge in samples from a.kitchen, Termini Bros. Bakery, The Dandelion and more, or spend the day sprucing up your spring wardrobe with additions from local shops including Joan Shepp, South Moon Under, Knit Wit and Duke & Winston. Take in the live music and free wine samples after you hit up restaurant tents and food trucks for street-friendly treats.
Details: Saturday, May 2 (noon-5 p.m.); free admission
The Philadelphia Wine + Food Festival

Get ready for a wine Wednesday like no other. The Philadelphia Wine + Food Festival brings over 650 wines (pdf) to Philadelphia's historic Market Street for an evening of spirited entertainment. Complement your beverages with samples from local restaurants including Amada, Indeblue, Luke's Lobster, Laurel and more. Proceeds from the festival's silent auction will benefit The Children's Hospital of Philadelphia.
Details: Saturday, May 6 (5-9 p.m.); tickets $25 - $225

Night Market Philadelphia
Philadelphia's traveling food festival is back for another taste of the electric city. The annual celebration of street food features more than 300 of the city's finest food trucks, restaurants and vendors. Night Market kicks off at South Street West and continues to three other Philly locations, giving you plenty of opportunities to take advantage of "Philadelphia's favorite street food festival."
Dates:
May 14: South Street West (6-10 p.m.)
June 18: Callowhill (6-10 p.m.)
Aug. 6: Lancaster Avenue (6-10 p.m.)
Oct. 1: Frankford & Girard (6-10 p.m.)