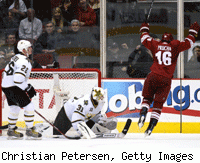 If you're not shelling out money for plane tickets this summer, you might be able to afford a little more luxury. Case in point: The Salamander Resort & Spa (500 N. Pendleton St.) was voted one of Conde Nast Traveler's best spas in the world -- and its proximity to D.C. makes it an easy weekend retreat that stills feels like a getaway.
The huge spa offers a range of services and treatments, but the highlight of your trip might be Executive Chef Chris Edwards' revamped menu. The food is inspired by his training in Spain, as well as his wife's Ethiopian background, and it's full of international character. Standout items items include the hay-smoked gnocchi and, for dessert, the baked Alaskan fireball.

But after you recover from your food coma, you might want something more invigorating. Look to the Tree Top Zip Tour for five different ziplines and two suspension bridges with lengths varying from 90 to 670 feet. The 20-acre course allow guests to fly over the resort and offers beautiful views of the Virginia landscape.
The equestrian center offers daily programs, and visitor favorites include trail rides, riding lessons and Horses 101. All sessions are $125.

Whatever experience you choose, book an appointment in advance. Just note the 24-hour cancellation policy, since scheduling is rather tight. Consider the range of accommodation packages available for a truly indulgent weekend.