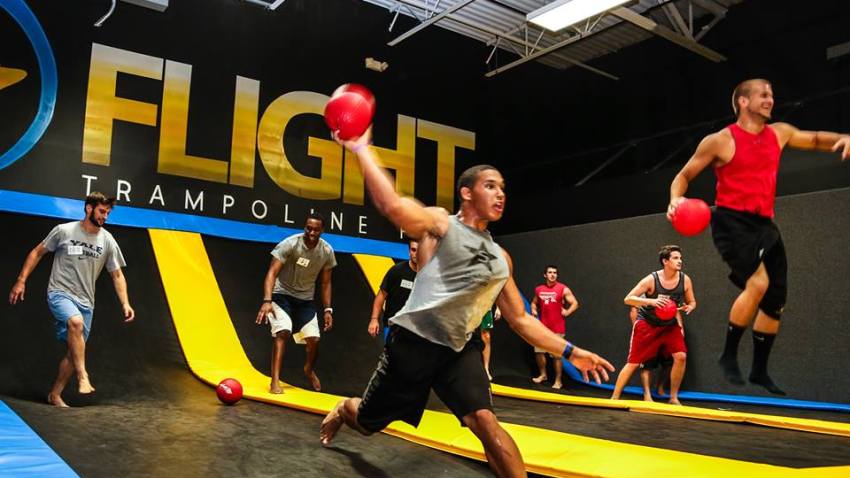 Remember that youthful glow from hours of flips on your childhood trampoline? Get that back with a trip to the new Flight Trampoline Park, opening this week in Springfield, Va.
Imagine 26,000 square feet of trampolines, dodgeball courts, foam pits and a ninja warrior obstacle course. The new Flight Trampoline Park may just be your new go-to spot for adventure.
The new adventure park (7200 Fullerton Road, Springfield, Va.) opens its doors this Tuesday with fitness classes, open jumps and Club Flight on Friday nights, where from 9 to 11 p.m. the lights get turned off and lasers turned on for a night of music and fun.
The Scene
The most fun things to do and places to be in D.C., Maryland and Virginia
Flight will also offer a fitness program for adults called Flight Fit, featuring instructor-led fitness routines (drop-in classes are $11). Flight also hosts birthday parties, private parties and corporate team events.
Wanna save some dough on your tickets? Check in on Facebook, Twitter or Instagram using your smart phone and get $1 off for you and everyone in your group whom you tag while at Flight.
Hours are Monday through Thursday, 10 a.m.-9 p.m., Friday and Saturday 10 a.m. to 11 p.m., and Sunday, 10 a.m. - 7 p.m. Find info on detailed pricing and hours online here.