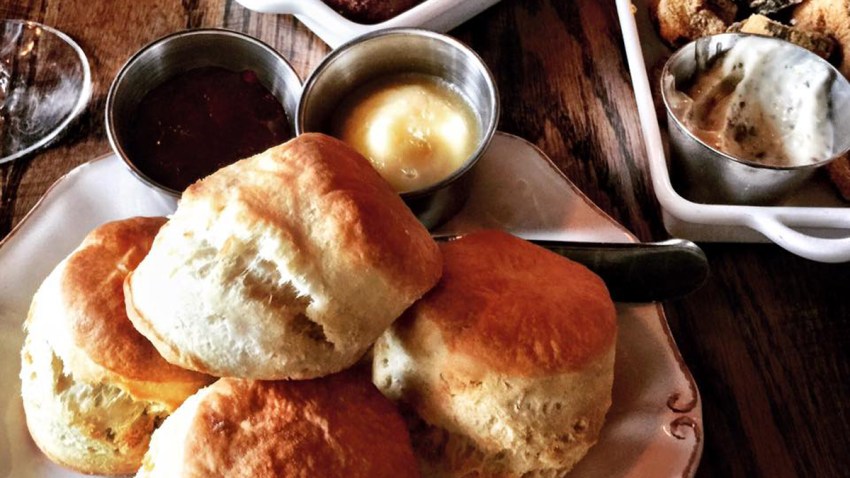 Don't let the trek up Connecticut Avenue to far Northwest dissuade you from trying Macon Bistro & Larder (5520 Connecticut Ave. NW), where executive chef Dan Singhofen has put together a refreshingly authentic Southern menu.
For starters, Mee-maw (i.e. Grandma), would have no problem with Essie's Biscuits ($7). Presented with a side of warm honey butter and a sweetly tasty pepper jelly, these soft yet not oozing buttermilk biscuits scream comfort food. This is a "can't miss" dish, as are the sublime fried pickles ($6). More closely resembling a kettle chip with a fresh center, the pickle was encased in a battering that was almost paper-thin, with no trace of grease.
Save room to gorge on the braised pork shoulder ($28) as your entree. Laid on a bed of the best cheddar grits in Washington, D.C., the pork shoulder was tender yet also firm -- like fudge having sat in the summer sun for a few hours -- with a nice zing provided by the charred onion barbecue vinaigrette and bitter greens.
The Scene
The most fun things to do and places to be in D.C., Maryland and Virginia
But the showcase dish all night was the side of Hoppin' John ($9), a side of sea island red peas and Carolina gold rice. The peas and rice worked together like an authentic lasagna, with an oddly workable dichotomy between denseness and lightness. Not a morsel of this entire dish was left -- and you will be this close to ordering another one.
Other well-ordered side dishes include the hushpuppies ($6), but when we went, they were made without corn (Macon Bistro & Larder only cooks with in-season ingredients), leaving the hushpuppies without the denseness Southerners expect.
This same element of ingredient deficiency was found in the Mac'n'Cheese ($9). While beautiful in presentation, this side dish was a bit dry and could have used some additional milk or cream.
As for dessert, it was interesting to note the lack of a pie as an offering. After all, what southern meal ends without pie? With the absence of this classic dessert, the Swiss roll ($8) came highly recommended. Unfortunately, the dessert was loaded with so much benne seed crumble, it resembled less a Swiss roll than sesame seeds with a side of chocolate.
While the new pastry chef adjusts the balances in garnishing and flavor, stick to another bottle of the Clos Du Gaimont '12, "La Monaco." This refreshing Chenin Blanc from the Loire Valley evens out any temperamental difficulties.