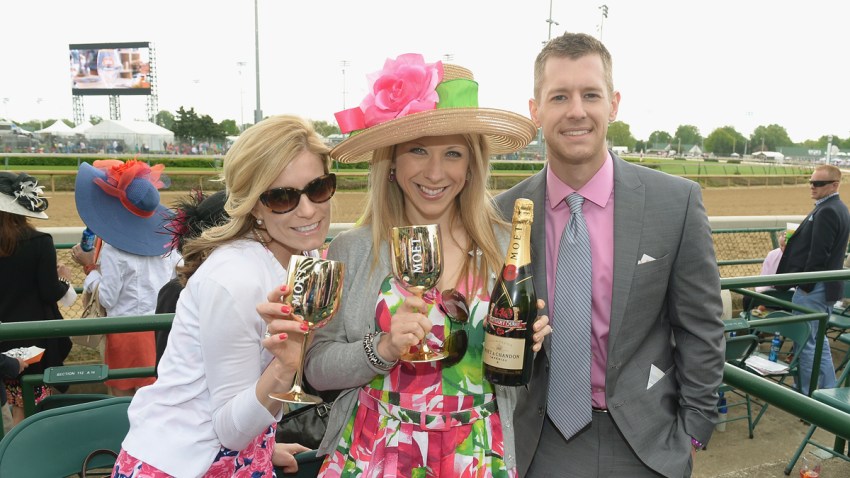 A proper Kentucky Derby party is all about style, fun and a ton of southern booze. Since we want you to make the very best out of your Derby Day '14, we've compiled a list of some of the events the District has to offer to celebrate this super auspicious occasion. This year's Derby is on Saturday, May 3, with the first race beginning at 10:30 a.m. Always remember, pinkies up.
Derby Day at Southern Efficiency
We told you it's all-things-southern at these events. Join the (relatively) newly opened Southern Efficiency for a proper afternoon of bourbon-sipping, mint julep-drinking, Hot Brown-noshing, Derby Day fun.
Little Miss Whiskey's Kentucky Derby Costume Contest
Food is a major part of any good derby party. Little Miss Whiskey's ups the ante on that featuring a menu of mint julep "crunkcakes," Bulleit Bourbon mint juleps, and a whole-roasted, bourbon injected pig prepared by The Queen Vic's very own Ryan Gordan. The derby-themed costume party will be hosted by the amazing Kristina Kelly. Prizes include a night at the Little Miss Whiskey Christmas Lounge, a $50 gift certificate to The Queen Vic's British Pub and more.
This "Louisiana fish house" boasts being one of the few places in D.C. to serve authentic Louisiana cuisine. For Derby Day, stuff your face with some genuine southern comfort while you watch the games. In honor of the races, Acadiana will have specials as low as $5. The menu includes Hot Browns, Burgoo Stew, Derby Pie, and of course, mint juleps.
Red Derby holds a special place in our hearts for hosting a "Big Hat Brunch" from 11a.m. to 3p.m., with $5 mint juleps (sensing a theme here), Derby Pies and the races playing on their TV screens. Honestly, we wouldn't expect anything less from a place that has the word "derby" right in the name.
From 3 to 7p.m., Poste's Derby Day party plans to do this Derby Day thing the right way. The ticketed event (tickets start at $75) is an all-you-can-eat, all-you-can-drink, all-you-can-Bluegrass event. If you don't mind shelling out a few extra bucks, you can purchase a VIP ticket that includes a private food and drink area, access to a Makers Mark hand dipping station and a bourbon tasting hosted by Jim Beam specialist Theo Rutherford. A portion of all ticket proceeds will be donated to Brainfood, a D.C.-based youth development organization.