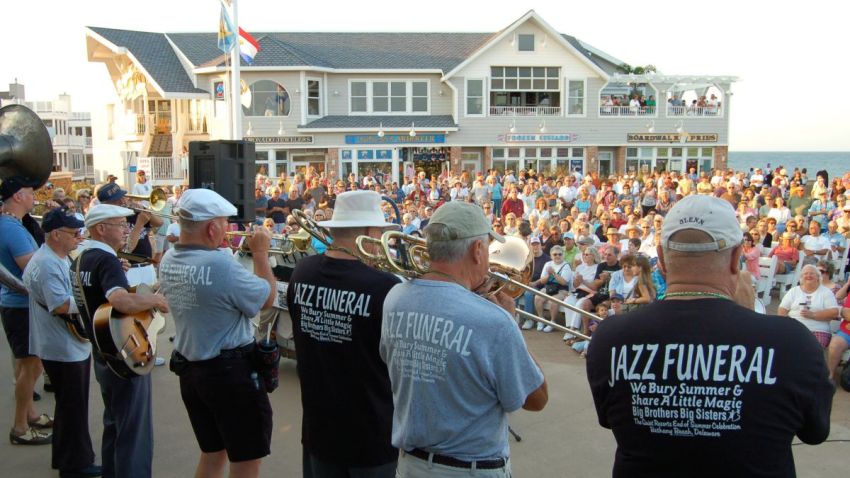 With Labor Day around the corner, it's time to mourn the passing of heat waves, jean shorts and tan skin at the 30th Annual Bethany Beach Jazz Funeral -- possibly the happiest of funerals.
The free procession kicks off with a wake Sept. 7 at 5 p.m. on the Bethany Beach Boardwalk. Costumes are strongly encouraged.
Past guests have dressed as mourners, sugar skulls, nuns... some people even deck out their baby strollers to look like coffins adorned in flowers.
The Scene
The most fun things to do and places to be in D.C., Maryland and Virginia
Three dixieland jazz bands will provide the soundtrack to the funeral as mourners help carry a casket containing a mannequin, representing the summer of 2015, to its final resting place at the Boardwalk Bandstand.
The bands -- the Dixie Cats, the Downtown Dixieland Band and the Jazz Funeral Irregulars -- will play classic tunes such as "Amazing Grace," "Basin Street Blues" and "Just A Closer Walk With Thee."
"Jazz Funerals in New Orleans are considered a positive writ of passage into eternity for those who depart," Jazz Funeral founder Moss Wagner said.
Funeral weekend will kick off with a silent auction Sept. 4 from 3:15 to 4:45 p.m. at the Bethany Blue Restaurant (6 N. Pennsylvania Ave).
The auction offers gift cards, gift baskets, services such as chartered boat rides, massages and house cleanings and advertising space in real estate booklets. The dixieland bands will also be featured.
All proceeds will go to the American Red Cross of Delmarva to mark the 10th anniversary of Hurricane Katrina.
"Since New Orleans experienced so much devastation from Hurricane Katrina and since the recovery process in New Orleans still continues to this day, our lighthearted Bethany Beach Jazz Funeral celebration is meant to show respect and admiration for the Jazz Funeral tradition that was born in the Big Easy," Assistant Chairperson Marie Wright said.
Anyone interested in volunteering can contact Jazz Funeral organizers by emailing jazzfuneral@comcast.net or by leaving a message at 302-537-1585.