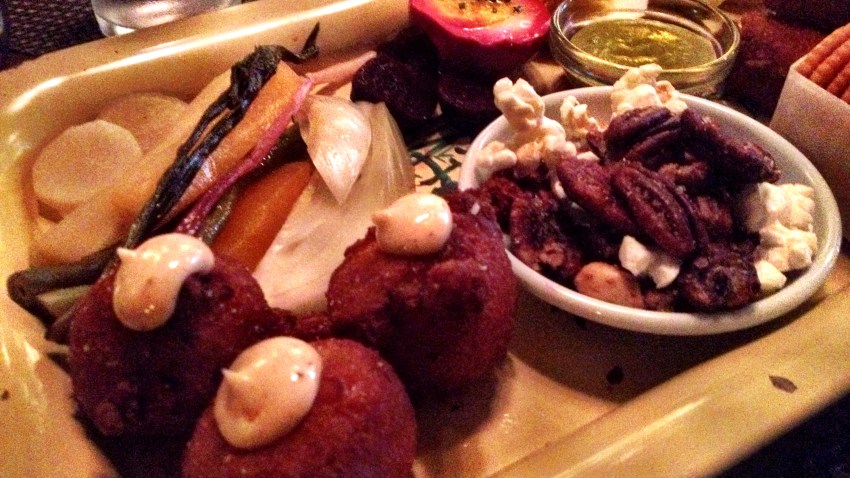 Famous for their marvelous beverage menu and their third-floor outdoor space for late-night camaraderie, Jack Rose Dining Saloon (2007 18th St. NW) has struggled when it came to the food menu -- until now.

"Drinks at Jack Rose? Absolutely! Dinner? Um... 14th Street is so close by...."

Thankfully, Jack Rose's food struggles have disappeared with the arrival of the young and humble new Executive Chef Russell Jones.

"I was at Vinoteca as executive chef at 26 and I could feel myself sliding," Jones said. "So I took myself to another kitchen to learn and grow."

He has certainly grown, and the richly textured, Southern-infused menu at Jack Rose reflects his pursuit of a more fulfilling culinary experience.

To begin, a sampling of various appetizers comes clustered on on a Supper Plate ($24). Thoroughly tossing aside the notion "less is more," the Supper Plate is filled with traditional goodies such as olives but then blows expectations out of the water with an inventive and girlishly pink pickled egg; heart-stoppingly flavorful crab hush puppies; a pimento cheese dip, which would be right at home at the Masters tournament, and for the adventurous, fried head cheese.

Among the new entrees, standouts are Swiss Chard Agnolotti, with royal trumpet and crimini mushrooms, cipollini onions and parmesan. Sharp and dense with an infusion of salty flavor, the accompanying vegetable medley added a lovely base to anchor the pasta.

If a more meat-forward dish is preferred, then try the light twist on the tradition chicken entrée presentation: Ale-Brined Half Chicken ($22). Local ramps, dumplings, chicken, and thyme and beer jus pleasantly filled the entrée role.

As for dessert/s, they seem like a frequent weak spot of most restaurant menus in D.C., but Jones' peanut butter banana pie ($7) was the best thing I ate that evening. The ingredients of banana, peanut butter and chocolate pull together for a caloric explosion of sugar. Fabulous.