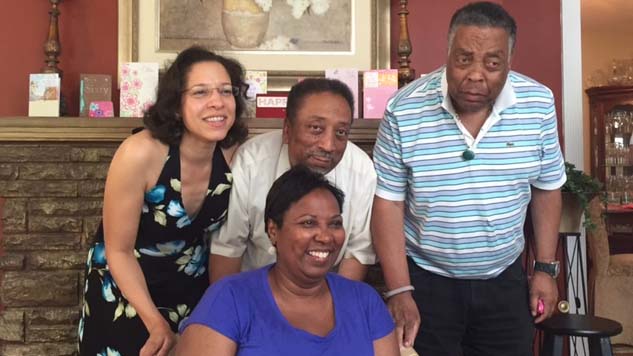 The following content is created in consultation with Allstate. It does not reflect the work or opinions of NBC Washington's editorial staff. To learn more about Allstate, visit allstate.com.
When S. Kathryn Allen — a 20 year financial industry veteran — decided she wanted to open a local insurance agency to help her community, she didn't have to look far for a name.
The Gladsyl Agency — backed by Allstate — is inspired by the names of her parents, Gladstone and Sylvia Allen, two early leaders in the North Carolina civil rights movement and pillars in their personal and professional communities.
"When I was thinking of a name for the agency, I thought about ultimate protection and my best memories of feeling safe and protected were of having my parents' arms around me," Ms. Allen says.
Today, Ms. Allen brings a similar sense of security to her clients by both protecting their assets and opening doors to the American dream for all regardless of race, gender, age or financial status. Helping clients protect what they've spent their careers building is a chief concern of Ms. Allen's, and she found a worthy partner in Allstate.
"I had always held Allstate, with its history of serving all communities, in high regard. Allstate offered a seamless startup model, giving Gladsyl all of the tools necessary to become a successful agency and presenting me with an opportunity I couldn't let pass."
It's what makes the Allstate Agency Ownership program so compelling. For entrepreneurs who want to run their own business and help their clients, the Allstate Agency Ownership opportunity offers a rewarding career in the D.C. metropolitan area. That's why Allstate is looking for local candidates like Ms. Allen, professionals with an entrepreneurial spirit and the ability to run his or her own business, from hiring and motivating a staff to obtaining the appropriate licenses.
But, like many Allstate Agency owners, Ms. Allen's commitment to her community goes beyond pure business relationships. Along with the rest of her staff, she's involved in numerous organizations like The Foster & Adoptive Parent Advocacy Center (FAPAC), which provides support to foster and adoptive families, and The Links, Inc., an association of African-American women who provide scholarships to local high school students, interview and job preparedness for previously homeless women and other supportive programs for local communities.
"As a minority and female business owner, I am acutely aware of the historical significance of my association with Allstate. For decades, African American-owned insurance companies spurred Black economic development, reinvesting premium incomes in the communities that they served," Ms. Allen says. "As a business owner in the insurance industry, I can positively impact the financial futures of underserved communities — a great tribute to both my family's history and Allstate's vision of meaningful community involvement."
To learn more about the Allstate Agency Ownership opportunity, visit allstateagent.com.