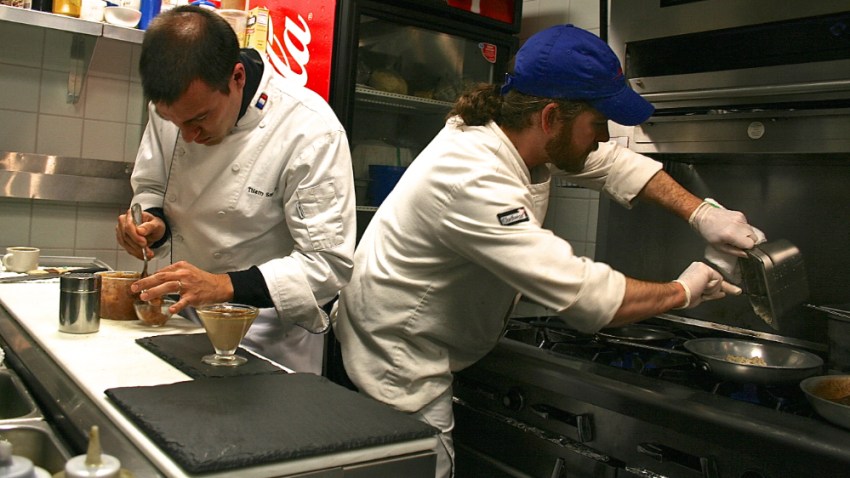 With the weather cooling down and local chefs turning to winter ingredients, this is our second of three discussions with H Street restaurant owners and chefs who are leading the neighborhoods restaurant boom.
Second up: Le Grenier owner Marie Ziar and Executive Chef Thierry Sanchez.
Ziar, a veteran D.C. restauranteur (Le Chat Noir), visited H Street in 2011 and quickly recognized that there was a lot of potential in the emerging area. Sanchez -- Ziar's French-trained executive chef -- also sensed that there was a need for more high quality food in an area that was dominated by bars and takeout spots.
The Scene
The most fun things to do and places to be in D.C., Maryland and Virginia
Although they both shared backgrounds in high-end French cuisine, Ziar and Sanchez knew they could adapt to H Street's younger and more eclectic community by blending traditional French techniques with local ingredients and a new approach to French cooking.
And Le Grenier (502 H St. NE) was born.

Read our conversation with Ziar and Sanchez below:
Q: What drew you to H St?
Marie Ziar: It's a booming neighborhood, but apart from that, I love the eclectic parts of the neighborhood. Different people with different experiences, lots of different flavors and I like that. We find buildings with a lot of character and when I visited this spot I loved it.
Q: When it comes to your menu -- produce, meats, and cheeses -- where are you going?
MZ: We are working with both big companies and local farms, especially for our produce. For our cheeses, we work with a company from Vermont who are very good at doing cheeses with very French flavors. We work with local farmers in Eastern Maryland, including a farmer from France, who always let us know what will be available in the coming months and we get the freshest ingredients possible.
Q: Now that we are moving into the colder months, what should we expect?
MZ: We are planning to have totally new menus every three months. We just changed it three weeks ago, so right now we're trying to base our menu off of winter products -- lots of butternut squash, asparagus, cabbage. In the matter of meats, we're going a little but more on the heavy side, like duck confit. It's cold and you need something to warm you up!
What is currently hot at your restaurant?
Appetizer: Foie Gras Revisité -- foie gras crème brûlée, sauternes-quince qelée, and toast
Entree: traditional duck confit -- my chef's signature dish. Not too fatty, not too salty. Served with apple risotto, braised fennel, and saffron orange sauce.
Vegetarian: It's hard to do vegetarian cuisine when you are cooking French, but we have a vegetable dish based on the vegetable of the day... I am from the Normandy region, so we have to specialize in galettes (crêpes made with buckwheat flour). One of the most popular is the Forestière -- creamy sauteed mushrooms, fine herbs, and St. André cheese.
Cocktail: The Elixir -- Rye Wry Moon, Chartreuse, Antica Formula, West Indian Orange Bitter, orange garnish.
Q: Compared to Le Chat Noir in Tenleytown, which serves more traditional French cuisine, how are you tailoring this new menu to the H Street community?
Thierry Sanchez: I would say this menu is more down to earth. More comfort food with that hint of class.
At Le Chat Noir, I get more fancy and little bit more risky with the overall presentation and combination of ingredients. A little bit more aggressive.
Le Grenier would be more like its little sister. A little bit more soft, for customers who are looking to have a good time who are not looking for something experimental or too fancy.
When people think of French cuisine, they often think of high culture and expensive menus. What would you say to combat the elitist image?
TS: We use French techniques while cooking, but we're also trying new approaches. We are starting to play with new combinations that people will be familiar with and will be appealing at the same time.
We look to appeal to different crowds, giving them hints of things they already like, but at the same time, offer them something they can't find somewhere else. I like to experiment, and I use my French roots, my Latin roots, and often create new dishes while at the same time respecting the French technique.
When Marie told you she was looking to open a restaurant on H Street, what were your thoughts?
TS: I thought that this was a region of the city that was ready for something new and high-quality, while at the same time people will be looking for comfort food.
So I had to come up with an approach that was not overpriced, which is the stereotype for French restaurants, [and instead something that's] affordable for almost any kind of budget while at the same time getting the essence of French cooking.
We work with farmers who know what they are going to have months in advance, so we are always creating new menu options.