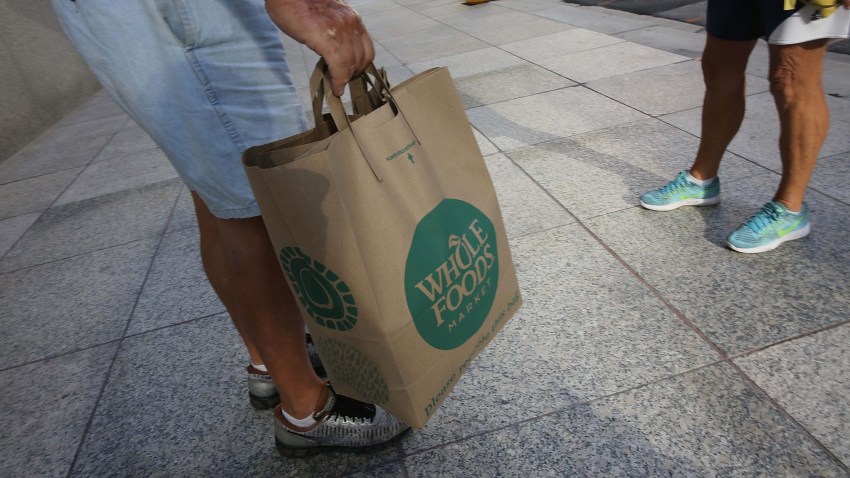 What do you call the neighborhood east of South Capitol Street and south of Interstate 695? If you're Whole Foods, it's apparently South Capitol Hill.
The newest grocery store to open in Southeast D.C., Whole Foods South Capitol Hill is selling itself as more than just a market, offering a bar, prepared food and partnerships with local chefs.
But it's the branding behind the new store that is shaking up some neighbors, who wonder why Whole Foods is trying to make "South Capitol Hill" happen.
"This store is uniquely designed for the South Capitol Hill shopper," Nick DiMarco, the store's team leader, said in a statement Wednesday. "From convenient shopping, to delicious dining options and a comfortable atmosphere; we''ve got something for everyone and I can't wait to welcome our neighbors into their new community store."
Now open, the market is located at 101 H St. SE, just south of the I-695, sometimes known as the boundary between Capitol Hill and Navy Yard, the more recent label for the neighborhood perched on the northern bank of the Anacostia River.
But there is still disagreement about the Navy Yard name. Bonnie Trein, a spokeswoman for the Capitol Riverfront Business Improvement District, said the name is derived from the adjacent Washington Navy Yard and the D.C. Metro's Navy Yard station.
"The neighborhood has been referred to as Near Southeast and Near Southeast Waterfront, and Navy Yard became the most prominent," Trein said.
Given the lack of consensus on a neighborhood name, the BID led a branding survey among community members and property owners in 2007, arriving at Capitol Riverfront as a consensus name to include all 500 acres of land that include the Ballpark District, Navy Yard, Buzzard Point, The Yards and more.
When Whole Foods contacted the Capitol Riverfront BID and mentioned the new store's name, Trein said she reacted with surprise.
"They actually mentioned the name in an email that was along the lines of South Capitol Hill," Trein said. "For me, it's not on South Capitol Street, and this is going to be very confusing."
Trein said the BID followed up with Whole Foods to point out the confusing name, even offering to explain the geography of the area, but were ignored.
"They said thanks for the clarification, but this is actually being used for internal purposes at the time. We heard nothing more until they came out with the official name," Trein said. "What we're not sure if they realize is that the Capitol Riverfront community is growing rapidly."
Whole Foods did not respond to a request for comment.
The neighborhood has seen an explosion in population and development since the opening of Nationals Park. Trein projected that a total of 14,000 residents will live in the Navy Yard/Capitol Riverfront area by the beginning of 2020.
Resident Caroline Kenny also was skeptical of the South Capitol Hill branding.
"I just had never heard of it at all before Whole Foods started using the term leading up to their opening," she said. "Don't understand the thought process, because Navy Yard/Capitol Riverfront has been so hot and on the up and up lately, so not sure why they wouldn't want to associate with the neighborhood."
"No one likes it. I reject it," said Navy Yard resident Brittany Shepherd, who thinks this is the latest attempt to rebrand the community.
And local news blogger Dan Silverman, the guy behind Popville.com, seems to agree that the name is out of place.
"I mean if you're gonna go for it, you might as well go all the way – I'm talking SoCap. SoCap. Sup SoCap? No, God Dang it, I can't do it. Not even in jest," Silverman wrote last week.
Twitter seems to agree:
In the minority of voices is Jacqueline Dupree, a neighborhood news blogger and photographer, who dislikes both "Navy Yard" and "Capitol Riverfront."
"'South Capitol Hill' hits a soft spot for me because my late husband always wanted the neighborhood south of the freeway to be called 'South of Capitol Hill,' which would be shortened to #SoCHill," Dupree wrote in an email. "To me it's always still Near Southeast."