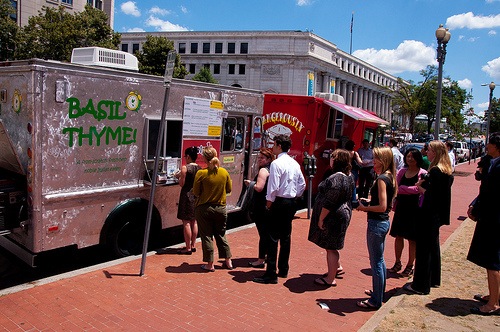 Food truck connoisseurs, get ready! The 2013
Curbside Cookoff
food truck festival series starts its tasty and philanthropic season Saturday, July 13 at the Capitol Riverfront (200 K St. SE).
Head over for 20 food trucks, a bar and a kids' area from noon to 7 p.m.
Participating food trucks
include Feelin' Crabby, CapMac, Halal Grill and Tasty Fried.
The Scene
The most fun things to do and places to be in D.C., Maryland and Virginia
Festival goers will be encouraged to donate a dollar to
Miriam's Kitchen
, an organization dedicated to ending homelessness in D.C.

"Much like food trucks, our guests... live and die by the streets," said Miriam's Kitchen chef Emily Hagel. "Both our guests and those of food trucks expect and deserve the highest quality meals turned out by our tiny kitchens."

The Food Truck Association of Metropolitan Washington (FTAMW) has been throwing Curbside Cookoffs since 2010. It has become their signature event.

This year's other Curbside Cookoffs are:
July 27: St. Elizabeth's East, 1100 Alabama Ave. SE (Congress Heights Metro)
Aug. 24: Congressional Cemetery, 1801 E St. SE (Potomac Avenue Metro)
Sept. 28: Wheaton, MD, Reedie Drive and Triangle Lane (Wheaton Metro)
Oct. 26: St. Elizabeth's East, 1100 Alabama Ave. SE (Congress Heights Metro)