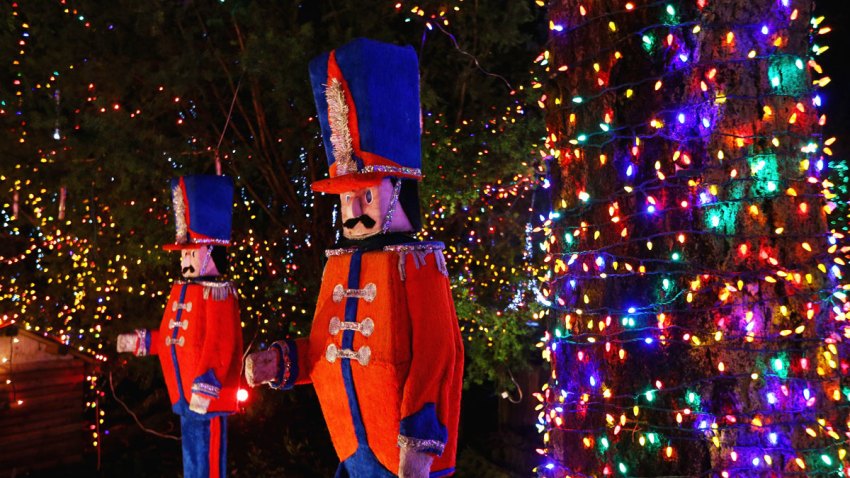 Lights may not always be the best things in the world (i.e., when you're sleeping, recovering, shame-eating etc.), but holiday lights can make everything this much better. [Imagine us stretching our arms so wide that the backs of our hands touch.] During the holiday season, though, lights are some of the best methods of free fun.
Head out with your families, friends, strangers and dangers alike for these holiday light displays.
The District's Best and Brightest:
National Christmas Tree Lighting
You may have missed winning tickets to go to the official Dec. 6 ceremony, but never fear; the tree will be here for weeks to come, and features special musical events every evening! You'll find out on the Ellipse, just south of the White House. For more information, follow the National Tree's personal twitter account, or visit the official site. Free to visit.
LED lions, and tigers and bears, oh my! Admission to Zoo Lights (3001 Connecticut Ave. NW) is free every night now through Jan.1 from 5 to 9 p.m. You can take pictures with the insanely popular Panda Claws, plunge down 150-foot-long snow-tubing tracks and warm your spirit with hot chocolate (spiked for the parents), eggnog, kettle corn and more. Admission is free.
Maryland, Shine on You Crazy Diamonds
18th Annual Winter Lights Festival
In addition to a million crazy-awesome light displays, the festival at Seneca Creek State Park (11950 Clopper Road, Gaithersburg, Md.) benefits local charities. Way to go, lighters! You can see it now through Dec. 31 (with the exception of Dec. 25). Admission varies by day and vehicle size. Visit the site for more information.
Mormon Temple's Festival of Lights
The Church of Latter-Day Saints will host this indoor lighting display display twice each evening, at 7 and 8 p.m. through the holiday season at its Washington, D.C. Temple (9900 Stoneybrook Drive, Kensington, Md.). Each night will include musical guests, an exhibit of créches from around the world and a life-sized outdoor nativity scene. Tickets are free and are available 90 minutes prior to each performance.
Annmarie Garden in Lights
The Garden in Lights tour at Annmarie Garden (13480 Dowell Road, Solomons, Md.) is a walking expedition through a path of light sculptures of animals, pirates, mythological beasts and more. In addition to the lights display, guests will also have access to the ornament show and sale, exhibits and the "Holiday I Spy" game. Admission is $6 per person; children four and under are free.
Prince George's County Festival of Lights
Now through Jan. 1, bring your family by the carload to Watkins Regional Park (301 Watkins Park Drive, Upper Marlboro, Md.) for a holiday lights drive-through. You can travel by car, van, bus or limo (yes, seriously, limo) just as long as you travel with cash (credit cards and checks are tender non grata). Also, travel with a few canned goods to be donated to local food banks. More information including entrance prices available here.
Rockville Square Tree Lighting
Tree lighting, ice-skating and a heart that grew three sizes that day. On Thursday, Dec. 5, Rockville Town Square (200 E. Middle Lane, Rockville, Md.) is doing a whole holiday shebang including Santa, live music, ice skating and a ton more. You can spread a bit of holiday cheer around by bringing a toy donation for the Housing Opportunities Commision. Free admission, toy donations appreciated.
Shadrack's Christmas Wonderland Light Show
Now through Jan. 5, Adventure Park USA features its own drive-through light show of a full mile of Christmas lights and sounds. After the lights, stay for a while longer to sip cocoa and meet Santa. Shows are 6-9 p.m. daily, with a portion of the proceeds benefiting the Salvation Army. Tickets are $20 per carload and more for larger vehicles.
Bright Lights, Big Cities in Virginia
Holiday Boat Parade of Lights
Virginia... D.C.... OK, the lines are kind of blurred, but the lights in the boat parade will be as clear as always. The annual boat show kicks off at 5:30 p.m. on Saturday, Dec. 7 at the Alexandria Marina behind the Torpedo Factory, and will travel the Potomac to the Washington Harbour. Cheer on your favorite boats for them to win prizes in categories such as "Best in Show" and "Thinking Outside the Christmas Box." Go early for more festivities. This event is free.

Mount Vernon by Candlelight
Adding a historic twist on the everyday notion of holiday lights, George Washington's Estate and Gardens (3200 Mt. Vernon Memorial Highway, Mt. Vernon, Va.) hosts a candlelit tour every weekend through Dec. 22. Your guide will be none other than Mrs. Washington, who will guide you through the estate, and show you the way to fireside caroling and holiday treats as well. $20 for adults (12+); $15 for children.
Meadowlark's Winter Walk of Lights
Now through Jan. 5, Meadowlarks Botanical Gardens (9750 Meadowlark Gardens Court, Vienna, Va.) will transform into a wonderland of a half-million lights. The garden's staple attractions will be integrated with the light show to create an electrically enhanced visual treat. Tickets are $6-$12 weekdays and $8-13 weekends. Purchase tickets ahead online.
Bull Run Festival of Lights
Bull Run Regional Park (7700 Bull Run Drive, Manassas, Va.) is hosting their nightly festival of lights through Jan. 5. (excluding holidays) from 5:30 to 9:30 p.m. weekdays and until 10 p.m. on weekends. Drive through light displays, visit the carnival and sit around the bonfire to get yourself in the holiday spirit. Cars $15; vans $25; buses $35. Carnival prices not included in entrance fee.