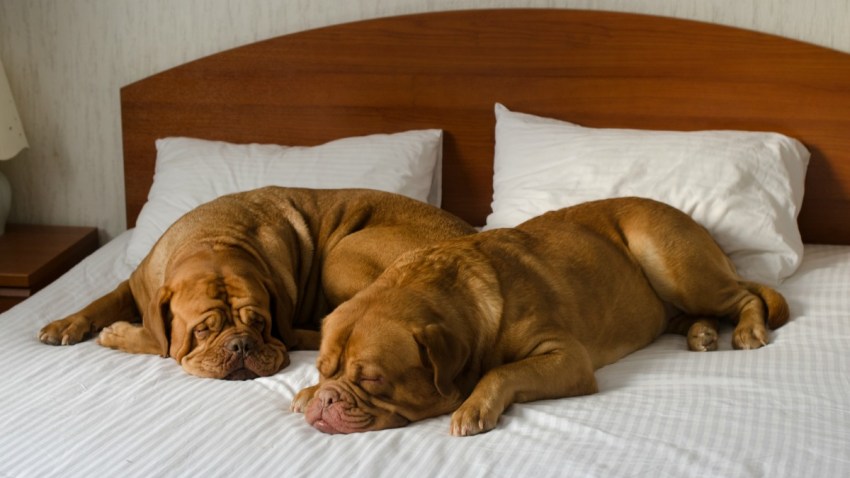 There's a Father's Day and a Mother's Day, but you might not know that there's also a day to celebrate Fido: National Dog Day Tuesday.
Dogs spend all year busily chasing tails, chewing bones and perfecting the art of the snuggle, so why not treat your pup to a pampering at a dog-friendly hotel?
If you'd like to send your dog away for a day (or two) of fun, there are some pet resorts in the area that should appease picky pooches.
Greenbriar Luxury Pet Resort in Frederick, Maryland, offers pet boarding and a veterinary hospital -- but the large outdoor areas and doggie day camps give dogs plenty of room to let off steam.
Olde Towne Pet Resorts in both Dulles and Springfield, Virginia, offer fancy digs that can even include a TV for your dog. Those resorts also boast swimming pools, massage services and a dog boutique for a canine shopping spree.
But if you want to get in on the fun, you might want to consider a stay at a pet friendly hotel.
Kimpton Hotels welcome dogs in the room with you and offer both treats and pet beds. The hotel chain even released a video of their four-legged "director of pet relations" to celebrate National Dog Day. There are eight Kimpton hotels to choose in the District, three in Alexandria and there is one in Baltimore.
If you only have one evening to spare, you may want to consider Yappy Hour at The Loews Madison Hotel (1177 15th Street NW) Tuesday evening. The dog-friendly happy hour event will feature "dogtail" drinks for you as well as chef-inspired treats and a "hydrant bar" for your dog. Several local pet boutiques and businesses will be on hand and all proceeds benefit City Dogs Rescue.
Check out some other dog-friendly hotels in the area.