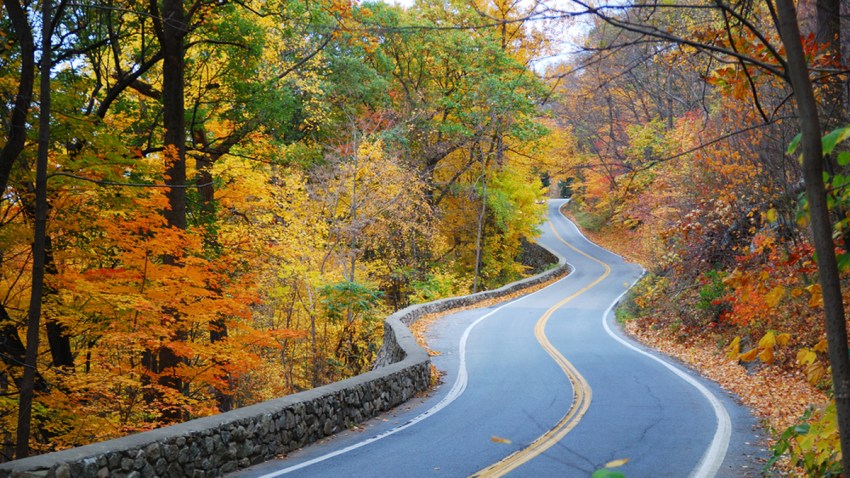 Summer vacation feeling like it was a long time ago? We understand. Sounds like it's time for a long weekend. Read on for three road trip ideas you can accomplish in three days or less.
Charleston, South Carolina
Explore Charleston's top must-see spots during a leisurely morning stroll starting at the majestic White Point Garden, historic Battery Row and Rainbow Row, and ending at Waterfront Park.
The Scene
The most fun things to do and places to be in D.C., Maryland and Virginia
Stop in for a true Southern-style brunch at Halls Chophouse, home to Low Country favorites like shrimp and grits and crabcake eggs Benedict. If you find yourself there on a Sunday, enjoy the soulful sounds of live gospel singers that welcome guests every weekend. Or begin the day with bottomless mimosas and a satisfying breakfast downtown at neighborhood favorite Toast! Order dhe Deluxe French toast stuffed with peaches or jumbo breakfast sandwich on a homemade buttermilk biscuit -- a true breakfast of champions.
Then journey to America 's oldest landscaped gardens at Middleton Place, a half-hour drive from downtown. Explore Charleston's most scenic 65-acre plantation by foot or horse-drawn carriage, home to a house museum, plantation stable yards and centuries-old camellias and azaleas that bloom in the winter and spring. Or walk off your hearty breakfast by shopping down historic King Street, home to a number of charming boutiques teeming with quintessential southern charm.
Stop in Mira Winery's Napa Valley Education Center just off King Street for a tasting and tour, home to critically acclaimed single vineyard wines from Napa.
Close out your day by having a drink on The Rooftop at The Vendue for the best bird's eye view of the city. (Side note: The Vendue has been chosen as one of the top five small-city hotels in the country by Travel + Leisure.)
Once done with your drink, head downstairs to Drawing Room for an unforgettable dinner featuring dishes that are just as gorgeous as they are delectable. Consider the foie gras with brandied fruit or the fresh catch of the day, such as the roasted grouper with Carolina gold rice.
Or experience a dinner of innovative American cuisine at one of Charleston's newest restaurants, Barony Tavern, opened under the direction of renowned Executive Chef/owner Robert Carter. Enjoy the quail and grits or delectable crawfish-stuffed shrimp in a unique atmosphere reminiscent of old-world aristocratic style.
New York, New York
A quick jaunt north always helps round out fall for those who live in the DMV. For a quintessential NYC experience, try to get tickets to the hottest musical in town, "Hamilton" (think "Book of Mormon" except with a scandalous Founding Father and hip-hop tracks), but since that's a real budget-buster, consider as well the Off-Broadway production of "Eclipsed" with Academy Award-winning Lupita Nyongo. The real-life story of the women who tried to end the Lilberian conflict in 2003 will move you to tears.
Whatever you decide to do, start your day right by fueling up with brunch at L'Amico Restaurant. A bright shining star in the heart of Midtown Manhattan, sheltered within the homey EVENTI Hotel, the iron-cast, floor-to-ceiling doors flood the calming space with light while you inhale the best pizza in Midtown. L'Amico's white mushroom pie, slathered with generous amounts of truffle paste, fontina, taleggio, sage and, of course, thinly slivered white mushrooms wakes the soul.
Or brunch at the Ritz Carlton Central Park, with its classic views of Central Park, and a gorgeous brunch. If you've got the bucks, indulge your beating Big Apple heart by actually staying at this delightful five-star property and waking up to the sun rising over the city. If you do, be sure to save time for their La Prairie Spa, which features a 90-minute caviar facial.
By this point, you've nearly emptied your wallet, so enjoy several of the free seasonal things to do in NYC. Head over to Tompkins Park for cuteness overload with the Tompkins Square Halloween Dig Parade, scheduled for Saturday, Oct. 24, or go to the Botanical Gardens for a massive pumpkin carving competition that same day.
After all this walking, rest your feet for the evening with afternoon cocktails on the Viceroy Hotel's The Roof for a strong jalapeño margarita, as well as a packed-to-the-gills social scene, before going to lower Midtown to enjoy a spectacular feast at JUNI, currently one of the best restaurants in the city.
This One Michelin Star baby of Chef Shaun Hergatt commands attention with a vibrant fluidity and interesting texture. Each of the seven courses within the selections of herbivore, omnivore and tasting will surprise you with eye-popping twists on traditional classics such as quinoa, lamb and even cheese. Chef Hergatt is the Willy Wonka of food and you should not miss the opportunity to eat at JUNI before it gets too crowded for words.
If you're in town later this fall, close out your night by bursting your stomach with laughter at the New York Comedy Festival, Nov. 10-15. Billy Crystal, Sarah Silvermann, Kathy Griffin and Norm MacDonald are among the headliners.
If you're not sure when you're going to get to New York this fall, there's always a stroll along the Highline. Free and cheap, gorgeous and full of surprises, this elevated park spanning 1.45 miles is soothing and tranquil, a rare feat for NYC.
Bretton Woods, New Hampshire
Crazing the start of ski season? Hey, it starts earlier the farther north you go. Make the most of ski season with an early trip to New Hampshire. Amtrak can get you there in one day, for roughly the same cost of a ticket to New York (about $200).
Once you arrive, bundle up and hit the slopes at Bretton Woods, New Hampshire's largest Alpine ski area, with 464 acres of skiing and snowboarding on 62 trails and 35 glades. Tickets can be purchased online and snowmaking starts Nov. 1.
Of course, with many classic ski resorts, they offer "other" winter activities for those who like the snow, but don't like the strenuous activity involved with skiing and snowboarding. Tubing, snowmobiling and sledding are all options.
Then retreat from the slopes at Omni Mount Washington Resort for some quality après-ski living. With its 25,000-square-foot spa and exclusive wine tasting as part of Montage Deer Valley's Wine & World Cup package, the Omni Mount Washington Resort is the nicest resort in Bretton Woods and has the best food to fuel up before hitting the slopes again at night for some night skiing.