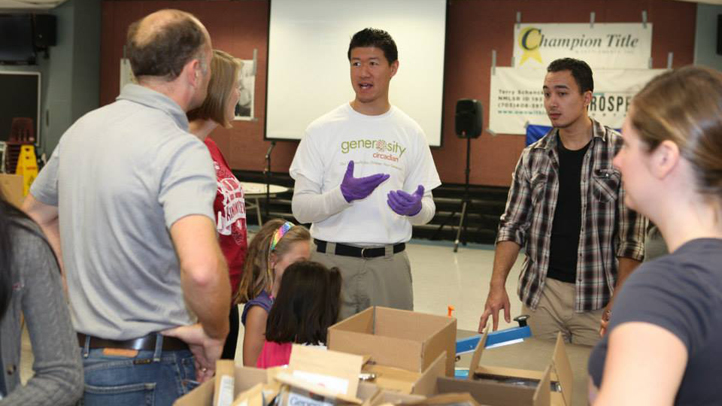 The following content is created in consultation with Allstate. It does not reflect the work or opinions of NBC Washington's editorial staff. To learn more about Allstate, visit allstate.com.
Who hasn't dreamed of being their own boss and helping their local community?
Well, for entrepreneurs who want to run their own business, the Allstate Agency ownership opportunity offers a rewarding career in the DC metropolitan area.
That's why Allstate is looking for local candidates with an entrepreneurial spirit and the ability to run his or her own business, from hiring and motivating a staff to obtaining the appropriate licenses.
In other words, Allstate wants candidates just like Jeff Shi. After immigrating from China, Jeff quickly developed the desire to own his own business. Unlike many of the Ivy League educated people in his motivated family, Jeff elected not to attend college in order to pursue his entrepreneurial dreams instead. All it took was an ad depicting an Allstate office that said, "Your Name Here" for Jeff to realize the career he wanted. And, after three years of saving, he was finally able to invest in his dream of becoming an Allstate Agency owner in July 2011.
Today, Jeff employs a diverse staff of six, three of whom speak a second language (Mandarin, Korean and Spanish), and hopes to open a second office in the near future, with longterm goals of opening multiple Allstate branches within the surrounding DC Metro area.
Not only was Jeff named "Rookie of the Year" for the Capital Region (and remains a frequent award winner), but he's also compelled to give back to his community, participating in multiple charitable events. His entire staff participated with Generosity Feeds providing hot meals to youth in Loudoun and Fairfax counties that may otherwise go hungry. As an Allstate Agency owner, he also donated a $1,000 grant to Generosity Feeds and will do so again this year. He also started a program with local South Riding Police and Fire Departments to deliver hot meals to deserving families in need for Thanksgiving and Christmas. The program started by Jeff has now become an annual event involving Jeff's Allstate office and several other small businesses in the area.
Jeff Shi is the model candidate for the Allstate Agency ownership opportunity, an entrepreneur at heart who is passionate about helping people, understanding and serving the diverse needs in his local community and growing his business over time to help the local economy.
To learn more about the Allstate Agency Ownership opportunity, visit allstateagent.com.