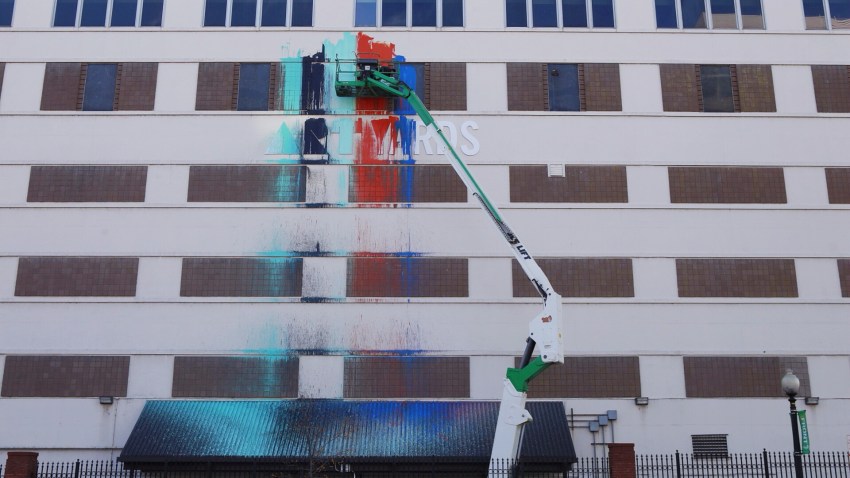 Blue, green, red, gold -- the colors flowed Wednesday over the side of an abandoned building in southeast Washington near the baseball stadium.
The building once housed the super-secret National Geospatial-Intelligence Agency (it does spy satellites). But it moved when economic development began turning the neighborhood into a spiffy new downtown.
But the old building remains until this winter when it will be demolished for new buildings.
The Scene
The most fun things to do and places to be in D.C., Maryland and Virginia
So developers of The Yards decided to make the old building an outdoor canvas and art space. Over the next few weeks, artists will be completing murals on the building and big 65-by-35-foot parking lot mural. The parking lot mural is a multicolored, fanciful fishbowl with dragons and other sea life. There'll be small castle just like you might see in a real fishbowl.
The site will be open to the public on Dec. 7 and 8. Children will be allowed to play on the parking lot art. Adults can gawk at the artwork on the walls.
Street artist Kelly Towles helped do one of the murals and spilled paint on the M Street SE side of the building at New Jersey Avenue.
"Really what's happening is we're activating a building that's going to be demolished," he told us as he stood in paint-splatted clothes. "With winter setting in and gray and everything coming around, it's going to brighten up the area and actually make hopefully, some people smile as they walk by."
You can see more artwork on Twitter at #ArtYardsDC and @ArtYardsDC.
The art will be up until early next year when the building will come down.
It's part of a dramatic redevelopment of the Yards Park. It once was a desolate industrial space that now has public parks, restaurants and new housing. A Harris Teeter grocery is due to open next year. The chances for rough and tumble street art are diminishing with every new development.