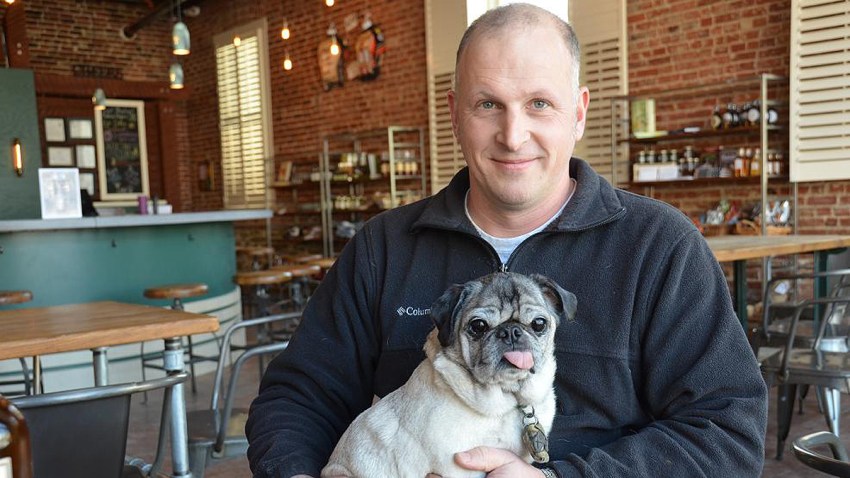 Owning a distillery is a big job, but somebody has to do it. Becky and Scott Harris of Catoctin Creek Distillery in Purcellville, Virginia have managed to produce a mighty fine (and organic) whiskey.
When we visited Catoctin, we were amazed by the amount of sheer grunt work needed just to make a simple bottle of whiskey. Every day, the Harris' fill the mash tank with water and about 700 pounds of milled rye.
They cook the rye for several hours to break down the starches to produce sugar. Then they put the cooked rye into 500-gallon tanks to ferment for a week until there's enough alcohol content, about 10 percent. The fermented liquid is then put into a still to... well... distill.
One of their most popular concoctions is the
Roundstone Rye
(about $45 per bottle), a 100 percent pure organic rye aged in new Minnesota white oak casks. The end result is a woodsy taste with caramel overtones, and earns it the distinction of being one of the only organic whiskeys in the entire nation.
Another favorite is the
Mosby's Spirit
, named after the fiercely loyal Civil War Commander John S. Mosby. The whiskey pays homage to the clear grain spirits that were popular in the 19th century.
And if you're looking for more ways to enjoy whiskey other than straight or in cocktails, try Catoctin Creeks recipes, which feature their whiskey in unexpected ways; e.g., Banana Nut Cake, Manhattan sundaes, and chorizo.
And if you see a tiny little pug with his tongue always dangling... His name is Frank, and he loves to greet customers. He's loved so much that he has his own
Facebook page
. Scott and Becky also make homemade dog treats for Frank from the spent mash. This could someday turn into another business venture for Catoctin Creek.