Pat Collins' Snow Stick Challenge asked people to "get creative." And boy, did they.
As he does anytime there's measurable snow, News4's Pat Collins took his trusty Snow Stick (follow the Stick on Twitter here) down to the intersection of Connecticut Avenue and Fessenden Street Tuesday.
First, he spent a little time with D.C. Mayor Muriel Bowser, who measured the snow for Pat. It clocked in at 3 inches on the Snow Stick.
DC Mayor Visits Pat Collins Ahead of Snow Stick Challenge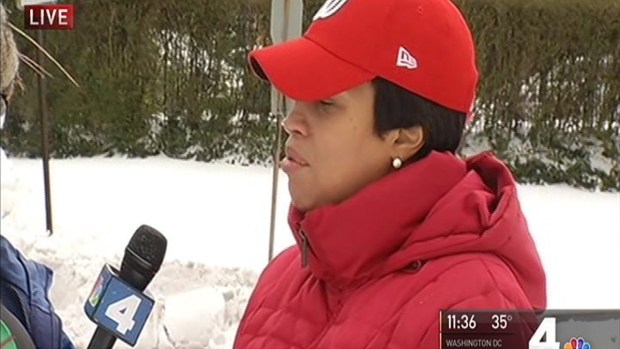 Then, Pat issued his challenge: Show St. Patrick's Day spirit in the snow.
Snow Stick Challenge Entries Hoping for Luck of the Irish
The most creative pose would be honored with a replica Pat Collins Snow Stick, which has measured blizzards in the D.C. area for decades.
Pat Collins Issues His Snowstick Challenge -- to Music
The submissions were immediate and creative. Seems no one will miss a chance to goof off in the snow!
Wearin' of the Green in the White Stuff
Now, Pat (and the stick) have to judge the entries Wednesday. The finalists -- and the winner -- will be announced on News4 Wednesday afternoon.
Getting ready for St.Patricks day in the snow! #SnowStickChallenge@PatsSnowStickpic.twitter.com/aku3OLWGqF

— Magdalena Gwaltney (@MagdalenaGwalt1) March 14, 2017
@PatsSnowStick@nbcwashington#snowstickchallenge Found this rainbow and leprechaun in my front yard in Springfield! Proud of Irish heritage pic.twitter.com/afMG5TQbdG

— Lisa (@Irisheyez28) March 14, 2017
@PatsSnowStick Our snow-woman is wishing for spring!! #SnowStickChallengepic.twitter.com/JRYvQJ1dzO

— Nicole (@NicoleCressman5) March 14, 2017
@PatsSnowStick Having a great time over here in Clifton. #snowstickchallengepic.twitter.com/Yjrbnq7yw3

— Erin Kemble (@ErinKemble) March 14, 2017