Look, you have to wear pants/skirts/shorts/kilts/whatever 364 days a year, right? This Sunday, you only have to worry about half your outfit.
Yep, the annual No Pants Metro Ride is coming up Jan. 13, when riders with a twinkle in their eyes converge on Metro to casually ride the trains as if absolutely nothing is out of the ordinary.
There is something out of the ordinary though. Seriously, just look at the name of the event.
The goal -- held over from the days when flash mobs were still A Cool Thing -- is to act completely casual during your pantless Metro ride. Just spend the ride like you normally would, reading the paper, chatting quietly with a friend, wearing no pants, whatever.
Raw Video: No Pants on the Metro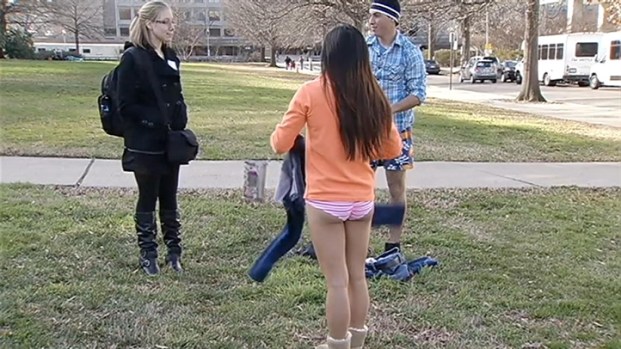 Improv Everywhere, the group inciting this mayhem, provide general guidelines on their Facebook page, including the following:
District of Columbia laws are very subjective. Try not to wear anything more revealing than "PG-13", such as a typical women's bikini bottom or a men's Speedo. When in doubt, wear two pairs of underwear. Take this as an opportunity to show off your style (or lack there of)!
All garments should be clean! We are sitting down on seats that other passengers on metro will use. Please be considerate.
Interested pants-less parties should convene at 2 p.m. Sunday at Hancock Park outside the L'Enfant Metro station (7th and C streets SW).
PERVIOUS COVERAGE: