You've heard by now that the National Zoo's beloved 3-year-old giant panda, Bao Bao, is moving to China next week. But how do you ship a giant panda to the other side of the world? Simple (sort of): a 224,900-pound max payload freight plane. That's how.
On Feb. 21, FedEx, the zoo's official transport sponsor, will take Bao Bao in a custom-decaled 777F aircraft known as the FedEx Panda Express, from Dulles International Airport to Chengdu, China, the zoo has said.
The 188-pound Bao Bao will be accompanied by a panda team, including her keeper and a veterinarian.
As with any private plane, the FedEx Panda Express will be equipped with plenty of mid-flight snacks. Bao Bao will travel with some of her favorite treats, including 55 pounds of bamboo, two pounds of apples, two bags of leaf-eater biscuits, two pounds of cooked sweet potatoes and 10 gallons of water, the zoo said.
Debating between a window or aisle seat will not be a problem for Bao Bao. Over the last several months, keepers have been acclimating her to a specially designed travel crate.
Keepers have trained Bao Bao to acclimate to her travel crate.
They started by having her simply move through the crate every day. Once she was comfortable, they gradually acclimated her to spending short periods of time in the crate with the door closed. Bao Bao was rewarded with her favorite treats when she chose to spend time in the crate, which may help her feel more comfortable during the 16-hour flight.
After arriving in China, a keeper will help Bao Bao transition to her new keepers and help them learn about her. The keeper will also teach the new keepers in China the hand signals and body language Bao Bao's keepers have used to communicate with the giant panda here in D.C.
Despite our crazy weather, it is better for Bao Bao to travel in the winter months when it's cool because giant pandas prefer cold weather, the zoo has said. Their thick woolly coats keep them warm and repel water.
FedEx previously brought Bao Bao's older brother, Tai Shan, to China in 2010, and her parents, Mei Xiang and Tian Tian, to the United States in 2000.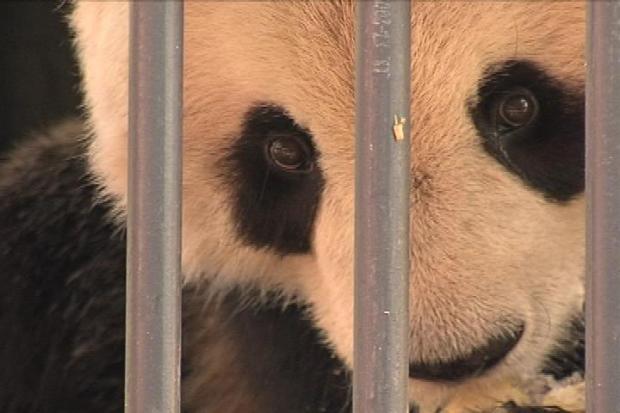 Tai Shan's Final Goodbye
The zoo will be hosting special events for the public to say goodbye and celebrate Bao Bao from Thursday through Monday, her last full day at the zoo. A full schedule of events is available on the National Zoo's website.
As part of the cooperative breeding program with the China Wildlife Conservation Association, all panda cubs born at the zoo leave to live in China by the time they are four years old. Once in China, the giant pandas participate in the breeding program when they reach five or six years old, the age of sexual maturity for giant pandas.