Beach towel starting to look worn out from all the relaxing you've been doing already? Doesn't sound like a bad summer at all.
But if you're feeling ready to hit the Metro/road/sidewalk, check out our calendar of the most enticing events in and around the D.C. area this season.
Truckeroo at the Bullpen
June 28, July 19, Aug. 2 & 23 & Sept. 20
Forage from some of D.C.'s most popular food trucks during Truckeroo at the Bullpen adjacent to Nats Park. You've got plenty of chances this summer to catch the recurring food truck fest. Find participating trucks here.
Museum of Natural History Reopens Fossil & Dinosaur Hall
Permanent exhibition reopens June 8
After a renovation process that took five years and $110 million, the Smithsonian's National Museum of Natural History is finally reopening its dinosaur and fossil hall June 8. The new exhibit will display 700+ specimens and welcomes visitors to figuratively travel through time — from 3.7 billion years ago at the start of Deep Time, to the future — to examine the impact that the creatures from Deep Time have on life today and that humans have on Earth's climate. The opening ceremony for the hall begins at 10:15 a.m., and the first 300 visitors to the National Mall entrance will be able to participate in that ceremony. Learn more here.
AFIDOCS Film Festival
June 19-23
This weeklong film festival aims to bring "the best in documentary filmmaking from the US and around the world" to D.C.-area audiences. This year's festival includes shorts, documentaries about the legacy of cinema and special screenings of "Ruth – Justice Ginsburg in Her Own Words" and "Toni Morrison: The Pieces I Am." Tickets are available online and range from $12 to $50 depending on the screening.
UniverSoul Circus
June 20-28
Enjoy live family entertainment with UniverSoul Circus at National Harbor. Tickets can be purchased here.
Firefly Music Festival
June 21-23
This festival in Dover, Delaware — only about a two-hour drive from the D.C. area — has a lineup stacked with rap and rock staples. Firefly pretty much offers an experience for anyone, whether you want to rough it in a tent, glamp or stay at a hotel in Dover. Festival organizers have promised an upgraded camp site experience in 2019. Panic! At the Disco, Travis Scott, Post Malone are among the artists set to perform.
Bayou Boogaloo Music & Cajun Food Festival
June 28-30
Take a road trip to downtown Norfolk, Virginia. "This popular 3-day festival delivers the heart and soul of Louisiana to visitors of Town Point Park in true Cajun and Creole style," planners say. Find their jampacked schedule of live music here.
Chesapeake Crab, Wine & Beer Festival
June 22 & Aug. 24
Crack open some crabs and sample some sips at the Chesapeake Crab, Wine & Beer Festival. It'll be held June 22 at Baltimore's Inner Harbor and then on Aug. 24 at National Harbor.
Washington Nationals
Ongoing
Take yourself out to the ballgame. Get tickets to a game at Nats Park — you might want to aim for a day that includes a freebie such as a bobblehead giveaway (Sean Doolittle, June 15; Max Scherzer, June 21; Adam Eaton, July 2), or a cat-themed shirt (July 6). See the complete promotions schedule here.
Smithsonian Folklife Festival
June 29-30
This year's fest this year focuses on the social power of music with two days of concerts. Although the festival's been scaled down from previous years, you can still discover food, music and instrument workshops on the National Mall. See the complete schedule here.
Independence Day
July 4
Celebrate Independence Day with a jaw-dropping fireworks show in D.C., as well as the Capitol Fourth concert on the National Mall, or opt for a smaller event with a hometown feel, such as those in Rockville or Herndon.
Washington DC's Immigrant & Refugee Music Festival
July 6
Echostage is taking the opportunity to amplify the voices of immigrant and refugee artists, including tabi Bonney, Chief Obi, Martha Afework and more. Tickets start at $40.
The Lawn at the National Building Museum
July 4-Sept. 2
The National Building Museum's latest summer installation will showcase a sloping indoor lawn made from sugarcane and soybean, with lounging areas and a mural of the sky. Hammocks will be suspended from the 100-foot-tall ceiling and will have audio playing from "prominent American storytellers," the museum says. Kids can catch augmented reality fireflies on the lawn, and the museum will also host yoga, meditation and movie events at the space.
Capital Fringe Festival
July 9-28
The Fringe Fest features experimental forms of theater, dance, art and more at seven venues. Tickets and the festival schedule information can be found here.
Citi Open
July 27-Aug. 4
The world's premiere tennis players will bring their rackets to D.C. for the chance to play at the Rock Creek Park Tennis Center. Tickets and more information here.
10+ County Fairs
July 12-Sept. 23, various dates
Go to a county fair ... and eat everything fried. The goodness begins with the Allegany County Fair (July 12-20) and goes all the way until the Great Frederick Fair (Sept. 13-21). Get all the dates and details here.
Food Festivals in VA & MD
July 13
Indulge and escape at a food festival. On this date, you've got your pick of the Purcellville Wine & Food Festival in Virginia and the Tilghman Island Seafood Festival in Maryland.
Lotus and Water Lily Festival
July 13-14
Explore the aquatic gardens during the annual Lotus and Water Lily Festival. The event features family fun activities, music and tons of Lotus and Water Lily plants in full bloom. Check back for this year's updates.
Brew Tours
Weekends
Take a brew tour. D.C. Brew Tours' Original Brew Tour is a great way to sample the area's beer scene. Your ticket includes up to 16 beer styles and VIP access at four stops, as well as a light lunch with a beer pairing.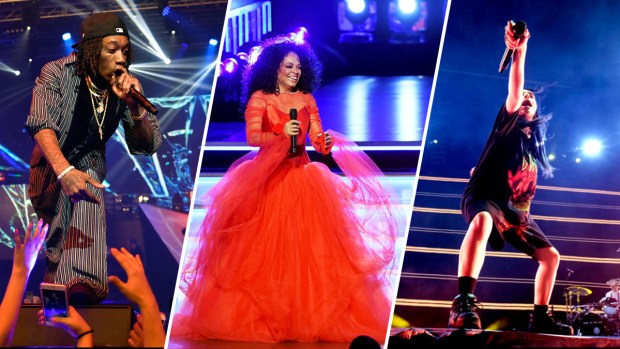 DC's Best Upcoming Concerts: Diana Ross, Beck & More
Brew at the Zoo
July 18
The Smithsonian National Zoo's annual beer fest, Brew at the Zoo, will feature tastes from more than 70 craft breweries, plus live entertainment and the chance to meet and greet some animals. (Note: This event is for those 21+ only; babies and children are not permitted.)
Floydfest
July 24-28
FloydFest is an annual, eight-stage festival set in Patrick County, Virginia. Attendees can camp off- or onsite for five full days of country and folk music. Kacey Musgraves, this year's Grammy Award winner for Album of the Year, is slated to perform. The String Cheese Incident, Phil Lesh & The Terrapin Family Band and Brandi Carlile will also take the stage.
DC VegFest 2019
Aug. 11
Enjoy free vegetarian and vegan food samples, live music, celebrity appearances and activities for kids. Get the details on DC VegFest here.
Comcast Xfinity Outdoor Film Festival
Aug. 23-26
Head to the Strathmore in Bethesda for one of D.C.'s best summer traditions, outdoor movies. This year's lineup includes "Coco," "Black Panther," "The Lion King" and "Wonder Woman." The event is free to attend and benefits the National Institutes of Health Children's Charities.
17th Street Festival
Aug. 24
One of Dupont's lovliest blocks will close to cars and open up for artists, vendors and community events. The event is free to attend, and there's a special zone for kids.
Maryland Renaissance Festival
Weekends from Aug. 24 through Oct. 20, plus Labor Day
Go back in time at the Maryland Renaissance Festival to see jousting events, shop arts and crafts vendors and eat a giant turkey leg. Always a giant turkey leg.
National Book Festival
Aug. 31
Ruth Bader Ginsburg, Barbara Kingsolver, Henry Louis Gates Jr. and dozens of other prominent authors are set to descend on D.C. for the Library of Congress' annual book festival. It's held at the Washington Convention Center and is free and open to the public. Alongside author talks, you will find family-friendly fun activities.
Concerts at the Lincoln Memorial
Multiple dates through Sept. 14
Spend summer weekends jamming out to all sorts of music at the Lincoln Memorial until Sept. 14. Find details on the lineup here.
Labor Day Observance (Tentative)
Sept. 2
Although details haven't yet been announced, the National Symphony Orchestra usually performs a free Labor Day Concert on the West Front lawn of the U.S. Capitol. Details should be posted here once released.
Bethany Beach Jazz Funeral
Sept. 2
Bid farewell to summer. Enjoy the sounds and the last of the summer days Sept. 2 at the Bethany Beach Jazz Funeral on the Bethany Beach Boardwalk in Delaware.
Rosslyn Jazz Festival
Sept. 7
Back for its 30th year, the Rosslyn Jazz Fest is set to return to Gateway Park for a day of free performances. Last year's festival drew over 10,000 people, according to the festival's website. Enjoy live jazz and contemporary music as you sip on a glass of wine in the middle of the park.
H Street Festival
Sept. 21
Celebrate H Street with food, music, vendors and plenty of neighborhood fun. This year's H Street Festival will take place just before the official start of fall.
Want to nominate something to add? Let us know by tweeting @DCscene.