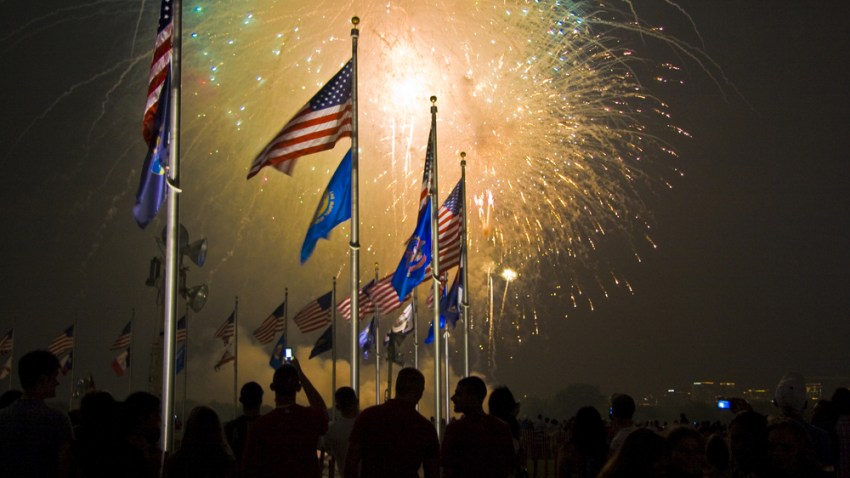 If you live in D.C. and have the energy and patience to deal with thousands of tourists on the Fourth of July, there really is nothing like watching the fireworks on the National Mall during A Capitol Fourth.
This year's event will feature Darren Criss ("Glee") Megan Hilty ("Smash"), the cast of Broadway's "Motown The Musical" and Barry Manilow, with Tom Bergeron ("Dancing With the Stars") hosting.
Composer John Williams will conduct music from the Oscar-winning movie "Lincoln" with the National Symphony Orchestra.
The Scene
The most fun things to do and places to be in D.C., Maryland and Virginia
The event begins at 8 p.m., but it's best to get there early. And, of course, it's all capped off by a spectular fireworks demonstration with the Capitol and National Mall as a patriotic backdrop.
Then again, if you hate crowds or simply can't make it into D.C. on the Fourth, the surrounding areas are throwing enough Independence Day celebrations to make Uncle Sam proud.
Check out all the ways to express your patriotism on the Fourth (or scroll down for a clickable map):
MARYLAND
Want to get away (but still sleep at home)? Head east for a day of sightseeing, capped off by a spectacular fireworks show at the City Dock (Main Street). Parade 6:30 p.m.; Naval Band performance 8 p.m.; fireworks 9:15 p.m.
Celebrate Independence Day at the Bowie Baysox Stadium (4101 Crain Highway) and catch a free concert performed by the Fabulous Hubcaps. Doors open 6 p.m.; concert 7 p.m.; fireworks 9:15 p.m.
The University of Maryland and the City of College Park are hosting a celebration of fireworks and music by The Rock & Roll Relics at the campus (7965 Baltimore Ave.). Grass seating is limited, so you're encouraged to bring lawn chairs or blankets. Concert 7 p.m.; fireworks at dusk.
The Lloyd Dobbler Effect, a local Latin rhythms band, will headline the the City of Gaithersburg's Fourth of July Celebration (16 Chestnut St.). The event also includes live music, food and fireworks. Gates 5 p.m.; music begins 5:30 p.m.; fireworks at dusk.
Buddy Attick Park (555 Crescent Road) plays host to Greenbelt's Fourth of July Celebration, which features a drum circle, the Greenbelt Concert Band and more. Entertainment 5:45 p.m.; fireworks 9 p.m.
The City of Laurel is hosting a full day of festivities -- but not until Saturday, July 6! The event (8300 Mulberry St.) will feature live music, a parade, a car show and field events, in addition to fireworks. Parade 11 a.m.; fireworks 9:15 p.m.
Bring your lawn chairs and blankets for Rockville's Independence Day Celebration (511 Mannakee St.), with food, dancing, and live music from the Fugitive Brass Quintet and the Rockville Concert Band. Entertainment 7 p.m.; fireworks 9:15 p.m.
The Takoma Park Independence Day Celebration at Takoma Park Middle School (7611 Piney Branch Road, Silver Spring) will feature food vendors, entertainment (gymnastic feats from Acro-Airs; Andean music from the Mystic Warriors and more) -- and of course a fireworks show. Parade 10 a.m.; entertainment 7:30 pm.; fireworks 9:30 p.m.
---
VIRGINIA
The United States Air Force Band will ring in America's birthday with a performance at the Air Force Memorial (1 Air Force Memorial Drive). Concert 8 p.m.
Alexandria is holding its festivities July 13 instead, to celebrate both America's birthday and its own. Head down to Oronoco Bay Park (100 Madison St.) for music and fireworks. Ceremonies 7:30 p.m.; concert 8:30 p.m.; fireworks 9:30 p.m.
The city of Falls Church is throwing a Fourth of July party at George Mason High School (7124 Leesburg Pike). The day will include a performance by Beatles tribute band The Apple Core and a fireworks display. Concert 7 p.m.; fireworks 9:20 p.m.
Fairfax celebrates independence day with an evening of music and fireworks at Fairfax High School (3501 Rebel Run). Evening show 7 p.m.; fireworks 9:20 p.m.

The theme for Ferry Farm's (268 Kings Highway) July 3 Independence Day event is "Spirit of America: This Land Is Our Land." The day will be full of games, re-enactments and demonstrations designed to educate children about how the U.S. was shaped. 10 a.m.-5 p.m.
Herndon goes all out for the Fourth, with a carnival in Bready Park at the Herndon Community Center (814 Ferndale Ave.). Stick around for food and fireworks later in the evening. Festival 6:30 p.m.; fireworks 9:30 p.m.
Join the Celebration in the Park at Ida Lee Park (60 Ida Lee Drive NW) for food, music from the Landshark Band and, of course, fireworks. Gates open 6 p.m.; music 6:30 p.m.; fireworks 9:30 p.m.
The Lovettsville Community Center (E. Broad Way) will host an evening of children's activities, music, food, and fireworks July 3. Events start 5:30 p.m.; fireworks 9:15 p.m.
Manassas is throwing an all-American party in its Old Town area that will include live country music, food, a patriotic hayride and fireworks, centered around the Harris Pavilion (9116 Center St.). Entertainment 4 p.m.; fireworks 9:15 p.m.
George Washington's historic estate (3200 Mount Vernon Memorial Highway) will offer activities all day on the Fourth, including a naturalization ceremony for 100 new citizens, military re-enactments, fireworks and more. Activities 8 a.m.-5 p.m.; $15 adults; $7 for kids ages 6-11; free for kids under 6.

Lake Fairfax Park (1400 Lake Fairfax Drive) will be open all day for family fun, with plenty of aquatic activities at the Water Mine to cool you off before the fireworks display. Opens 7 a.m.; fireworks 9:15 p.m.
The Vienna Community Center (120 Cherry St.) will host magicians, antique car shows, music, food and rides. Head over to Southside Park (1315 Ross Drive SW) for fireworks. Activities 11 a.m.-4 p.m.; fireworks 9:15 p.m.
View NBC Washington's Fireworks Finder 2013 in a full screen map