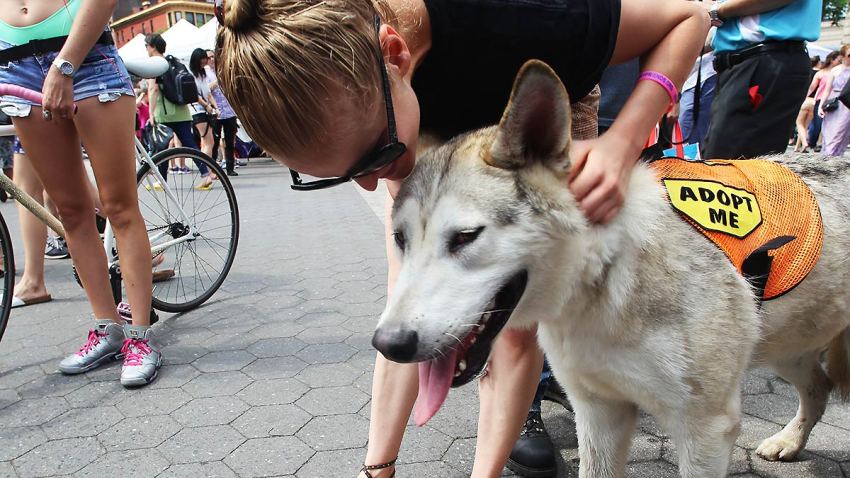 Spring-like weather is finally here, melting away your fears of getting trapped in nasty weather. Get out by volunteering in the D.C. area!
The region has many organizations that help animals, homeless or hungry people, the environment and low-income students. If you're interested in getting outside and helping others, check out these groups. (Did we miss your fave? Tell us in the comments!)
Help Hungry People
Food and Friends (various locations) -- Food and Friends delivers meals and groceries to people living with cancer, HIV and other illnesses. They need volunteers to deliver food to the 5,600 homes they serve. Volunteers also package and prepare food. Their website promises a flexible schedule.
Capital Area Food Bank (4900 Puerto Rico Ave. NE) -- The Capital Area Food Bank says their mission is to end hunger and help prevent chronic undernutrition, heart disease and obesity. You can volunteer individually or in a group. The Capital Area Food Bank also has a shuttle from the Brookland-CUA Metro stop, so you don't need a car to get there.
DC Central Kitchen (425 2nd St. NW) -- If you love cooking or want to get outside and pick fresh produce that'll be used to make thousands of meals, DC Central Kitchen could be your perfect volunteer spot. Anyone age 12 or older can sign up on the website for a variety of volunteer times. Sign up a week or two in advance to ensure the time slot that works for you is open.
Get Outdoors
Arcadia Farms (9000 Richmond Highway, Alexandria) -- If you want to get outside and work with food, Arcadia Farms may be a great fit for you. You can volunteer on their farm once a month on a Saturday morning (dates are on the website). The farm also has a mobile farmers market that brings fresh food and education to D.C. and Northern Virginia.
Anacostia Watershed Society (various locations) -- This organization keeps the Anacostia River and nearby environments clean. You can volunteer at various cleanups throughout the warm months.
Casey Trees(3030 12th St. NE) -- Casey Trees plants trees and maintains the canopy over Washington, D.C. Volunteers help in a variety of roles, including planting and maintaining trees.
Help Homeless or Low-Income Women and Children
Thrive DC (1525 Newton St. NW) -- Thrive DC serves meals, maintains a free computer lab and offers employment services to the local homeless population, and has special programs for women. Volunteers can help with all of these efforts after attending an orientation.
Martha's Table(2114 14th St. NW) -- Martha's Table provides many services to D.C. families, including inexpensive child care, food, education and more. You can volunteer doing anything you're interested in at Martha's Table: Volunteers work with kids, serve meals, educate people about healthy eating and even maintain the charitable clothing store.
A Wider Circle(9159 Brookville Road, Silver Spring) -- A Wider Circle helps low-income families furnish 4,000 homes of every year, in addition to finding jobs for people who have struggled with poverty, homelessness or substance abuse. You can help move furniture if you want to be active, help the professional development team or sign up for one of the many other opportunities.
Save Animals
Lucky Dog Animal Rescue (various locations) and City Dog Rescue (2121 Decatur Place NW, Unit #3) -- Both of these rescues were voted some of D.C.'s favorite places to volunteer by Washington City Paper readers. Volunteers get to spend time with the dogs: fostering them, helping them get adopted or transporting them.
DC Paws Rescue (various locations) -- DC Paws Rescue needs people to foster and drive animals, but is also looking for people with specialized skills like public relations, grant writing, graphic design and photographers to help their cause.
King Street Cats (25 Dove Street, Alexandria, Virginia) -- Something for cat lovers! You can transport cats to vet appointments and help them find permanent homes. King Street Cats is looking for people who can commit to volunteering four hours a month for six months.
Get Artistic
Sitar Arts Center(1700 Kalorama Road NW #101) -- The Sitar Arts Center ensures all D.C. kids get an education in art. Eighty percent of their students come from low-income households, according to their website. You can share your artistic skills with kids across the D.C. area at Sitar Arts Center. If you appreciate art more than you like to create it, the center also has positions for you!
American University Museum (4400 Massachusetts Ave. NW) -- Volunteers help the museum run on a day-to-day basis.
Smithsonian American Art Museum (800 G St. NW) -- You can help lead activities for kids and families, teach people about art or help out the museum with your sign language skills.
Mentor or Tutor a Kid
Boys & Girls Club of Greater Washington (various locations) -- The Boys & Girls Club of Greater Washington provides summer and after-school programs for low-income kids, encouraging them to build confidence and acquire useful skills. Volunteers fulfill a variety of needs. One note: They must undergo a background check.
Higher Achievement (various locations) -- Higher Achievement puts middle school students on track for college by running programs and connecting students with mentors. Mentors will teach a small group for one evening a week.
826DC(3333 14th St. NW, Suite M120) -- 826DC helps school-aged kids write creative and expository works, arming students with important writing skills. Volunteers can teach writing classes, help with homework and more.