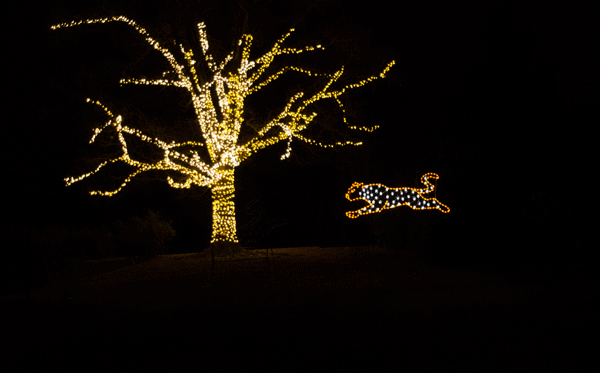 Haven't made it to the National Zoo this holiday season? Catch up on what you're missing with our 12 Days of ZooLights. From Nov. 23 to Jan. 1, the zoo presents a sparking light display featuring sculptures of many of the zoo's most popular animals. We're sharing one with you each day.
Today's animal: Cheetah

Habitat: African savannah

In the wild: There are only 8,000-10,000 cheetahs in the wild. About 10,000 years ago the cheetah population experienced a sharp population decline.

At the zoo: The zoo has four cheetahs living at the Cheetah Conservation Station. Carmelita and Justin are the youngest, making a rocky entrance during a dramatic delivery in the spring. Three male cheetahs -- Draco, Zabini and Granger -- and a female cheetah, Tumai, also live at the zoo.

Zoo history: Carmelita and Justin were born in April at the Smithsonian Conservation Biology Institute and were hand-raised by zoo keepers. Scientists at the institute study cheetah reproduction.

Bet you didn't know... Scientists think cheetahs suffer from genetic defects more often than some other species.

---
The Scene
The most fun things to do and places to be in D.C., Maryland and Virginia
PREVIOUS DAYS:

Day 1 (Dec. 17): Komodo Dragon