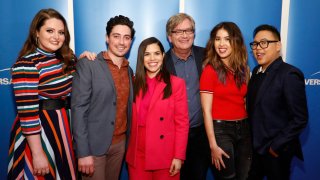 First America Ferrera, now the whole show.
"Superstore" is officially saying goodbye at the end of its sixth and current season. NBC made the announcement on Thursday, revealing that the beloved comedy will end with a total of 113 episodes in the spring. Four episodes have aired so far and 11 more will air after the winter hiatus.
In a statement, executive producers Justin Spitzer, Gabe Miller and Jonathan Green thanked the studio, the network, and the fans.
"We're grateful to Universal Television and NBC for letting us make 113 episodes of a show we're so proud of, and for giving us the chance to work with such an incredibly talented group of actors, writers and crew," they said. "We're thankful most of all to the viewers who've stuck with us for the past six years (or discovered us somewhere along the way). We'll do our best to go out strong and give you the satisfying ending you deserve."
Fall 2020 and Spring 2021 TV Premiere Dates
Star and executive producer Ferrera, who played Amy, was originally meant to leave the show at the end of season five, but the pandemic shut production down with only her final episode left to film. She ended up appearing in the first two episodes of season six.
Amy moved to California for a promotion, and while originally her boyfriend Jonah (Ben Feldman) was set to go with her, they broke up just before she left for good. Perhaps this means she might return for a happier ending to the series!
Star Lauren Ash, who plays Dina, tweeted some complicated feelings about the show's end.
"It's hard to know exactly what to say in moments like these. Superstore was a dream every day. I made lifelong friends and helped create a show that I am beyond proud of. I am incredibly sad it's ending but also insanely grateful for all it's given me."
"Superstore" will return for its final episodes on Thursday, Jan. 14 on NBC.
E! and NBC are both part of the NBCUniversal family.
Copyright E! Online