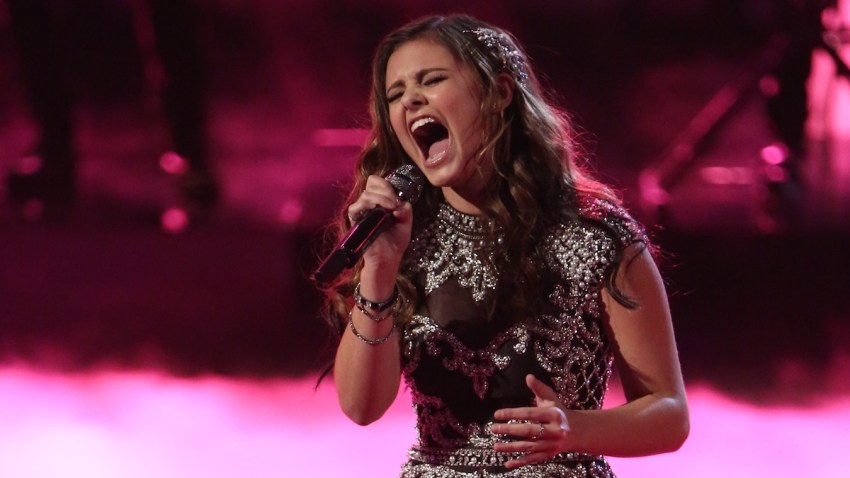 The only two women in the top six on "The Voice" could very well be the last two singers left standing to battle for the title, if CeeLo Green's prediction Monday proves correct. If the coaches' reactions to the night's performances by the top six were any indication, his hunch could be a good one.

(It could help that CeeLo is the closest thing "The Voice" has to an impartial coach, since all his team members have been eliminated already.)

As for why CeeLo's guess might hold water? Look no further than the powerhouse performances by Team Christina's Jacquie Lee and Team Adam's Tessanne Chin on Monday night.

Adam Levine — whose team still boasted three members, more than any of his rival coaches' — tasked his resident diva (minus the attitude) Tessanne Chin with Bob Marley's "Redemption Song," which he hoped she, with her Jamaican background and reggae roots, would connect with personally.

"Jamaica is a country of extremes," she said. "That's what I love about this song," she added, admitting that she was daunted by the idea of tackling such a classic anthem. But her emotive, crystal-clear belt, accompanied only by an acoustic guitar, more than did it justice, the coaches agreed.

They also reserved plenty of praise for her full-on pop performance of Katy Perry's hit "Unconditionally."

"You are a world-class vocalist, and that's what I think people should talk about," Blake Shelton told her, saying that he wished that received more attention than her national origin and her national pride. "I haven't seen anything quite like you on this show. It's amazing."

Her competitor from Team Christina, Jacquie Lee, 12 years her junior, also delivered jaw-dropping performances Monday night, including one of a song by her own coach — "The Voice Within" from Christina's 2002 "Stripped" album. "This song is actually one of the main reasons I became a vocalist," Jacquie explained, dedicating the song to her coach.

Jacquie gave a performance whose confidence showed she'd taken to heart the song's message of trusting one's own intuition and voice. Afterward, Christina acknowledged just how relevant the message of the song, which she wrote around age 20 based on her experiences navigating the music business, was for the young singer. "I appreciate what you did with that song," Christina told her.

But perhaps the biggest hit of the night was Jacquie's take on Janis Joplin's "Cry Baby" — injecting a song by a notoriously hard-to-top singer with some of Janis' trademark vulnerability and ferocity at the same time. That feat was an even more impressive one given Jacquie's tender age, and complete unfamiliarity with heartbreak.

"It's a hard concept to grasp because I've never been through love," she admitted before taking the stage. But her coach was confident. "You have an intuition about you, and that's why you can sing such soul," Christina told her. "I'm just so grateful that you realize when I second-guess myself," Jacquie confided.

Second-guessing was nowhere evident on-stage, where Jacquie's frenzied rocking out — and mic stand antics — belied the dainty tiara on her head. She closed out the song on her knees, with a wail.

"Who ARE you?!" Carson asked her afterward. "You can't fake that kind of funk. You just can't," he added, before Christina climbed onto the stage alongside them to congratulate Jacquie. "She left her heart on this stage for all of you," Christina proudly told the audience of her charge. And Adam said he shuddered to think what a powerful performance Jacquie might unleash a few years down the road — "if that's you having NOT had your heart broken," he remarked.

But Monday wasn't just a night for "The Voice" season five's lone two ladies. Team Blake's last man standing, bearded soul singer Cole Vosbury, kicked off the night by crooning Hall & Oates' "Rich Girl," before later tackling James Morrison's "Better Man," which he dedicated to his first love.

"If you don't get her back now, something's wrong, man," his coach told him after his performance. "You're showing dimension. You're showing that you can do it all." But Christina said she detected some strain in Cole's voice. "It just sounded a little bit like you've been singing a lot," she said, advising him not sing himself hoarse in rehearsals.

Christina's own Matthew Schuler, meanwhile, had given himself the task Monday of redeeming himself after a lackluster performance last week that had earned him a spot in the bottom three. He first sang One Direction's "Story of My Life," an unusual pick for the indie rocker but one that he made his own with his trademark belt, though he started off shaky and barely audible.

His coach praised his ability to make any song his own, and Adam praised his versatility, even as he admitted that it would be hard for Matthew to top his killer performance of Leonard Cohen's "Hallelujah" earlier in the season.

As far as Blake was concerned, Matthew may have done just that with his other performance Monday, of Percy Sledge's bluesy classic "When a Man Loves a Woman," marking — thanks to Christina's astute assignment — that he'd ventured into such soulful territory. "That was as good as I've ever heard you sing," Blake told Matthew after he finished singing.

The two other members of Team Adam, Will Champlin and James Wolpert, both struggled somewhat with their performances Monday night but still earned the coaches' plaudits.

Will started with the Sam Cooke classic "A Change Is Gonna Come," with an unusual musical arrangement — though the performance seemed stilted, perhaps because of the song's very personal message of racial equality and its significance to the civil rights movement. But despite a few stumbles, Will's piano intro for the performance won over the coaches.

Will later tackled a much less iconic song, the electro-country-pop Avicii song "Hey Brother," a tune Adam readily admitted is "kind of weird." But his performance won Adam over. "Every time I hear you sing I want to know more," he said.

Adam's other team member, James Wolpert, struggled a little bit, too, with his first song of the night. He was singing "Fell in Love with a Girl," after earlier performing a different White Stripes song at the blind auditions, and gave a rendition that sounded remarkably similar to Jack White's, though he did struggle with one part of the song.

Adam acknowledged the flub but praised his performance anyway, as he did James' other performance, of Meat Loaf's '90s hit "I'd Do Anything For Love (But I Won't Do That)," a song whose drama he encouraged James to emphasize. "You really can't overdo this," he advised James, and true to his advice, James gave a full-throated performance — despite being under the weather.
Which of the final six contestants will stick around to sing healthily again will be determined in Tuesday night's live eliminations.

"The Voice" airs Mondays at 8/7c and Tuesdays at 9/8c on NBC.