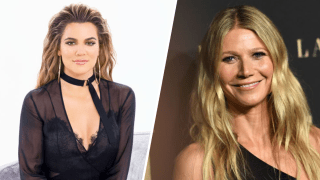 What's in a name? An awful lot, if you're a celebrity parent.
Kim Kardashian, just one of the stars who famously gave her kids unique names, has admitted to feeling the heat when it came to choosing legendary monikers for her and Kanye West's four children: North West, 9, Saint West, 7, Chicago West, 5, and Psalm West, 3.
"When I had a surrogate, I found that time would fly by faster, and I wouldn't feel the pressure of coming up with the name," she said on Live with Kelly and Ryan last year. "So, I would say naming my last two was definitely harder with the pressure of letting time go by."
And while she did once consider "just naming" her youngest son Rob in honor of her brother Rob Kardashian, Kardashian felt the need to go above and beyond. "But then it's North, Saint, Chicago, Rob," she explained to Jimmy Kimmel in 2019. "It doesn't really go."
We're making it easier for you to find stories that matter with our new newsletter — The 4Front. Sign up here and get news that is important for you to your inbox.
Kardashian ended up turning to meaningful nouns that you wouldn't find on a list of most popular baby names, a strategy that was also adopted by Gwyneth Paltrow and Chris Martin, who made headlines in 2004 for naming their daughter Apple.
Why did they opt for that sweet choice? "Her dad came up with the name and I fell in love with it," Gwyneth confessed last year. "I thought it was original and cool. I can't imagine her being called anything else."
The Goop founder and Coldplay singer, who consciously uncoupled in 2014, gave their younger child another rare name that's even more biblical—Moses—which fans speculate was inspired by Coldplay's 2003 song of the same name.
As for Kardashian's sister Khloe Kardashian, she went for a wholesome adjective to achieve alliteration in her daughter's name. The Good American mogul and NBA player Tristan Thompson welcomed daughter True Thompson in 2018, before going on to have a son via surrogate in 2022.
Though the baby boy's name hasn't been revealed, you can rest assured it fits perfectly with True's: Khloe confirmed on The Jennifer Hudson Show in April 2023 that her son's name "will start with a T" as well.
Before she unveils the full moniker, keep reading to see more celebs who chose unique names for their kids.
As Gwyneth Paltrow explained to Oprah Winfrey, her daughter's unforgettable name was actually picked by her famous dad, Chris Martin.
"When we were first pregnant, her daddy said, 'If it's a girl I think her name should be Apple'...It sounded so sweet, and it conjured such a lovely picture for me, you know. Apples are so sweet and they're wholesome, and it's biblical."
Singer Grimes said in an interview with Vanity Fair, published in March 2022, that she and Elon Musk privately welcomed a baby girl recently via surrogacy.
"Exa is a reference to the supercomputing term exaFLOPS (the ability to perform 1 quintillion floating-point operations per second)," she said. "Dark, meanwhile, is 'the unknown. People fear it but truly it's the absence of photons. Dark matter is the beautiful mystery of our universe.'"
Sideræl—pronounced "sigh-deer-ee-el," is "the true time of the universe, star time, deep space time, not our relative earth time," and a nod to her favorite Lord of the Rings character, Galadriel, who "chooses to abdicate the ring."
Elon Musk introduced his and Grimes' baby boy X Æ A-12 to the world on Twitter in May 2020. They later slightly modified the spelling of their child's name in order to meet California's legal guidelines, which only permit letters from the English alphabet. Switching over to roman numerals, the parents agreed to spell his name, X Æ A-Xii.
"X, the unknown variable," Grimes explained on Twitter. "Æ, my elven spelling of Ai (love &/or Artificial intelligence) A-12 = precursor to SR-17 (our favorite aircraft). No weapons, no defenses, just speed. Great in battle, but non-violent."
Grimes continued, "A=Archangel, my favorite song" with an accompanying a rat and sword emoji. "Metal rat."
Cardi B and Offset welcomed their daughter in 2018.
When asked where the inspiration for their baby girl's name came from, "Bodak Yellow" rapper said, "Kulture [heart emojis] anything else woulda been basic Okrrrrr." As for her middle name, Kiari is actually the Migos rapper's first name.
Khloe Kardashian welcomed her daughter with Tristan Thompson in 2018, and welcomed a baby boy via surrogate in 2022, whose confidential name also starts with a T.
Shay Mitchell and longtime partner Matte Babel welcomed their first child in November of last year, and revealed the sweet girl's worldly name, too. "In my 32 years of life I thought I had seen a lot of places, experienced a lot of things, met a lot of people and felt love...then came you," the Pretty Little Liars star expressed in her Instagram. "Truth is I had no idea I was capable of loving anything like this before you arrived."
In 2014, Eva Mendes and Ryan Gosling introduced the world to Esmeralda Amada. In an interview with The Violet Files, the Hitch star shared that the couple's first daughter's name carries a sentimental meaning. "Ryan and I both love the Esmeralda character from the Victor Hugo novel, The Hunchback of Notre Dame, and we just think it's a beautiful name," she said. "Amada was my grandmother's name. It means 'beloved' in Spanish." Mendes and Gosling used the moniker once again when naming their second daughter Amada Lee Gosling, who they welcomed in 2016.
Cameron Diaz and Benji Madden's little girl has a pretty cool name, and Diaz took to Instagram to announce welcoming the baby into the world, adding, "She is really really cute. Some would even say RAD."
Zooey Deschanel and ex-husband Jacob Pechenik revealed their daughter's name is Elsie Otter because the furry critters are "really sweet, they're also smart, they use tools to keep their favorite tools, [and] they hold hands while they sleep."
Kylie Jenner and Travis Scott gave their baby girl the now-famous name back in 2018. As for where the inspiration for Stormi's name came from, the Kylie Cosmetics founder shared, "When I was pregnant, I used to call her 'Stormie'—when I would talk to her in my belly. It just always felt right." She also revealed that she was also set on the name Rose.
Inspired by their faith, Alexa PenaVega and Carlos PenaVega named their first child Ocean King, 3. Providing more context for fans, the Spy Kids star said, "God called the dry ground 'land' and the water the 'seas'. And God saw that it was good.- That is why we went with Ocean. And he is a son of the one true 'King'. For us it has a beautiful biblical meaning." The couple are also parents to Kingston James, who they welcomed in 2019.
In January 2022, Nick Jonas and Priyanka Chopra announced they welcomed their first child. E! News later confirmed they are the parents of a a baby girl, born by surrogate on Jan. 15 in San Diego.
Amber Rose loved the name she gave her and Alexander "AE" Edwards' son so much, she decided to get it inked on her forehead. She also had her and Wiz Khalifa's son Sebastian's name tattooed
Kevin Hart's baby boy's name means "strong and healthy." The Jumanji: Welcome To The Jungle star is also dad to Heaven, 15, and Hendrix, 12.
Bachelor alums Sean Lowe and Catherine Giudici became parents to baby Mia back in December 2019. They're also parents to sons Samuel Thomas, 3, and Isaiah Hendrix, 2.
When it came to naming twins Gideon Scott and Harper Grace, Neil Patrick Harris said that he and husband David Burtka wanted something versatile, noting that the name "Gideon" could be "a scientist or a guitar player in a band."
For Steph Curry and Ayesha Curry's third child, the moniker means "officiant of the church" and "young wolf." The couple also share daughters Riley Elizabeth, 7, and Ryan Carson, 4.
DJ Diplo decided to name his second son after his electronic dance music trio, Major Lazer.
Kandi Burruss became a mom for the third time back in November 2019, introducing the world to baby Blaze. She is also mom to son Ace, 4, and daughter Riley, 17.
Greta Lee and husband Russ Armstrong welcomed Apollo back in 2017. The couple is also parents to 13-month-old son Raphael.
Unique names have become a Kim Kardashian and Kanye West staple as evidenced by their children's monikers: North West, Saint West, Chicago West and Psalm West.
The newest Avenger is...Exton! Not really, but it sounds like a cool name don't you think? Robert Downey Jr. and wife Susan Downey sure liked it, since that is what they named their newborn.
John Legend and Chrissy Teigen became parents to Luna Simone back in 2016. During a visit to The Ellen DeGeneres Show, the Cravings author revealed that the name was inspired by a blood moon that had occurred right before her birth. "There was a blood moon happening, and it was really a beautiful night," she recalled. "There was a really big, vivid red moon. It was just gorgeous." Legend and Teigen welcomed son Miles Theodore in 2018.
Would any other name smell as sweet? Bachelor Nation's Krystal Nielson and boyfriend Miles Bowles introduced their little girl to the world on March 31. Five days later, she announced the name: It's official!!! Glitter baby has a name!!!! Introducing our beautiful angel, Andara Rose Bowles."
Copyright E! Online