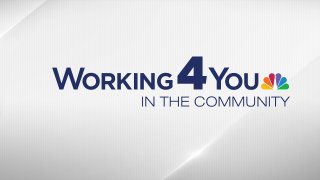 ++++++++++++++++++++++++++++++++++++++++++++++++++++++++++++++++++++++
Community
NBC4 and our sibling station Telemundo 44 are #Working4You in the DMV
********************************************************************
Experience Gaithersburg's Arts on the Green During The Merry Month of May!
For live onsite performances and films at the City of Gaithersburg Arts Barn and Mansion as well as more information, please visit the website at www.gaithersburgmd.gov/AOTG or call 301-258-6394. And if you prefer, join us virtually! Internet access is required for virtual participation. Only one virtual performance ticket purchase is required per household, so one or more persons may view the program. Once registered, patrons will receive an email from our streaming partner, Mandolin. We recommend that you purchase livestream tickets by 15 minutes prior to event start time. Livestream and recorded virtual performances can be viewed on a personal computer, tablet or other device or can be cast to a Smart TV.
MAY
ARTS BARN SPRING ART MARKET
Sunday, May 1 * Arts Barn * 10 a.m. – 4 p.m.
Get a jump start on your Mother's Day, graduation and wedding gifts at the Arts Barn. Our studios and gallery will host local artists with their tables full of beautiful, unique gifts for family, friends and yourself.
In the Studios – Schools Out Creative Kids Day Camp; Spellbound Enchantment
May 2; 9:00 a.m. – 3:00 p.m. • Arts Barn
$82 (R)/$94 (NR)
For ages 6 - 12
Ready to explore the magical worlds of fairytales and mythical creatures? Join the Arts Barn for an enchanting School's Out Day Camp. Half of the day will be spent performing and playing drama games, with the other half of the day focused on visual arts. The art forms will collide to create a fun day of fantasy.
In the Galleries: "World of Glass" with the Art Glass Center at Glen Echo
March 11 – June 5 • Arts Barn
In the Studios – Artist Talk: Our World of Glass with Michele Rubin, President of the Art Glass Center at Glen Echo
May 4; 7:00 p.m. • Arts Barn - $5
For ages 14 and up
The United Nations has designated 2022 as the International Year of Glass. In celebration of this event and the Art Glass Center's "World of Glass" spring exhibition at the Arts Barn Gallery, join us for an Artist Talk by Michele Rubin as she introduces us to the kiln-formed techniques represented in the show's artwork.
In the Studios – The Art of Kolam Workshop
May 7; 1:30 p.m. • Arts Barn * $20 (R)/$23 (NR)
For ages 8 and up
Tamil women from India often begin, and sometimes end, their day by drawing Kolams. These repeating patterns, drawn on the ground just outside the front door of houses using rice or rock powder, have been passed down from generation to generation for centuries. They symbolize the scientific and philosophical patterns innate to and infinite throughout the cosmos. The process can be meditative and healing. The workshop invites you to learn how to draw Kolams on paper, starting with simple exercises and moving on to more complex patterns.
In the Studios – Theatre Topics Tuesdays: Improv for Self-Confidence
May 10; 7:00 p.m. • Arts Barn - $26 (R)/$30 (NR)
For ages 16 and up
Improvisation, or unscripted theatre, can be a great way to have fun while building confidence. This workshop taps into your ability to think off the cusp and encourages self-assured presentation skills. Local director and actor, Amy Benson, expertly crafts classes to include games and creative risk taking that will help you feel more comfortable, confident, and loose on stage and in front of a crowd.
SPECIAL THEME PROGRAM
Community Arts: MAGIC AND FANTASY WEEKEND • Arts Barn
May 13, 14 and 15
May 13
Onstage: ADAM STONE, Magician
8 p.m.
Ages 15 and up
Tickets: $22 • $20
Comedy, magic and mentalism collide to create a tour de force of elegant deceptions and spell-binding entertainment.
Film: THE LORD OF THE RINGS; THE FELLOWSHIP OF THE RING
Tickets: $12 (Advance)/ $15 (At the door)
Tickets include:
7:30 p.m. Trivia Contest
8:10 p.m. A medieval weapons demonstration by The Noble Blades stage combat troupe
8:30 p.m. Film begins. PG-13 – Parents Strongly Cautioned. Some material may be inappropriate for children under 13.
May 15
Youth Workshop: DEFENSE OF THE DARK ARTS WORKSHOP
1 p.m. (30 minutes)
Cost $10.00 per child (adult/guardian enters free)
Ages 6 to 10, must be accompanied by an adult/guardian
Film: HARRY POTTER AND THE SORCERER'S STONE
Tickets: $5 (Advance)/ $8 (At the door)
Tickets include:
1:30 p.m. Harry Potter Trivia Contest and Costume Parade. Anyone in costume gets a raffle ticket for one of three prizes.
2 p.m. Film begins. Come celebrate the 20th anniversary of the original phenomenon.
Just For Families: MILKSHAKE
May 14; 1 p.m. • Arts Barn
Ages 3-7
Tickets: $5 (Advance)/ $8 (At the door)
Come join Lisa Mathews and Mikel Gehl as they get everyone caught up in the magic of music and fun.
Just for Families/In the Studios: Storytime at the Arts Barn
Yayoi Kusama Covered Everything in Dots and Wasn't Sorry by Fausto Gilberti
May 20; 1 p.m. • Arts Barn
FREE, but registration is required.
Join us at the Arts Barn for an engaging story and creative arts activities. A parent or guardian must accompany their young person.
SETH GLIER-Singer Songwriter Series
May 21
3pm workshop and 7:30pm concert • Arts Barn
Tickets $30/$50 Combo; Concert Door $35; Livestream $20
Grammy-nominated Seth Glier is a singer-songwriter, producer, and multi-instrumentalist. NPR describes his voice as "otherworldly" while praising him as "an engaging performer and storyteller." His critically acclaimed, emotionally dense catalog of work often draws upon traditional roots music, experimental instrumentation, and moody atmospheres that result in soulfully intelligent stories that can alternatively fight the power or break your heart.
Comedy: Danny Rouhier
Fri., May 20 at 8:00 p.m. • Arts Barn
Tickets: $22/$20
Laugh it up! As a stand-up comic, Danny is fast-paced, clever, with dozens of voices and characters. He's performed all over North America at clubs like Caroline's on Broadway, The DC Improv, Funnybone comedy clubs and at festivals in Boston, DC, Detroit, and Seattle. Recommended for ages 15 & up.
In the Studios – Theatre Topics Tuesdays: Physical Theatre for Self-Care
May 24; 7:00 p.m. • Arts Barn
$26 (R)/$30 (NR)
For ages 16 and up
In honor of Mental Health Awareness Month, join the Arts Barn to learn how physical theatre, an exciting performance medium, can be used to create safe spaces for self-expression and self-care. Instructor Pam Freedy – of the Royal Central School of Speech and Drama – will explain what physical theatre is and can be, introduce the work of well-known physical theatre companies, and invite participants to put some of these concepts into practice. No experience necessary. Come to move, explore, and have fun.
The Kentlands Mansion
Once Upon a Board
Thurs., May 12, 7 – 9 p.m.
Tickets: $55(R)/$60 (NR)
Charcuterie boards are tasty, beautiful, and perfect for any gathering or occasion. Filled with a variety of meats, cheeses, and other delicious fixings, these boards can be customized to your liking. Whether you're looking to impress at your next get together or create the ideal snack to enjoy with your family, meat and cheese boards are the perfect solution. Learn the techniques and skills needed to create and style your very own board time and time again.
About the Arts Barn: Housed in a renovated stable once belonging to the Tschiffely family estate (circa 1900), the Arts Barn contains an auditorium for concerts, live theatre, and film screenings. The stable's stalls and loft were converted into classrooms, a box office, an art gallery, artist-in-residence studios, and a retail space for local artists. The Arts Barn along with the Kentlands Mansion create an arts campus known as Arts on the Green. It is located at 311 Kent Square Road, Gaithersburg, MD.
About the Kentlands Mansion: Also owned by the Tschiffely family, the elegant Kentlands Mansion is an ideal venue for wedding ceremonies, receptions, social functions and business meetings. The Mansion hosts a wide range of quality theater, music and art programs. It is located at 320 Kent Square Road, Gaithersburg, MD.
The mission of the Arts Barn is to provide residents and visitors with enriching arts experiences that include exploration, education, and observation. Nationally and regionally renowned artists are the highlight of the Arts Barn schedule and lead through artistic innovation. The Arts Barn nurtures community artists and arts groups by providing professional services and facilities in which to creatively develop. Education programs inspire people of all ages and backgrounds to explore their own creativity.
For workshop registration, theatre tickets, and more information, please visit the Arts Barn at www.gaithersburgmd.gov/AOTG or call 301-258-6394. Follow us on Facebook at www.facebook.com/ArtsontheGreen.
********************************************************************
In addition to the popular and ongoing exhibitions House & Home and Animals, Collected, the National Building Museum is offering three new opportunities for visitors to discover timely, important, and beautiful aspects of the built environment. Justice is Beauty: The Work of MASS Design Group showcases a nonprofit architecture firm whose work focuses on public health, personal well-being, and human dignity. Over its first decade, MASS Design Group has paved the way in designing health structures that manage disease outbreaks such as tuberculosis, cholera, and Ebola. Other innovative projects include schools, prison design alternatives, food-conservation labs, urban space designs, and memorials to commemorate civil injustices. On display through September 2022.
Shown in conjunction with Justice is Beauty, the Gun Violence Memorial Project is an architectural space of memory and healing: four glass-brick houses that are filled with remembrance objects collected from immediate families whose loved ones were killed by gun violence. This tribute to the thousands of lives taken by gun violence in the U.S. each year was designed by MASS Design Group and conceptual artist Hank Willis Thomas, and developed in partnership with the gun violence prevention organizations Purpose Over Pain and Everytown for Gun Safety Support Fund. On display through September 2022. This exhibition is free for all visitors—no ticket purchase required.
The Museum's exhibitions and the Museum Shop will be open from 11 am to 4 pm, Fridays through Sundays. Masks are required for all visitors at all times, and the Museum is following all D.C. government COVID guidelines regarding visitor capacity. Over the past year, the Museum has moved its public programs to an online format, and this will continue over the coming months, until the city's rules on the size of indoor gatherings allow for in-person events.