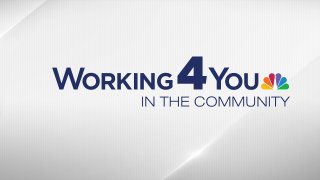 ********************************************************************
Community
NBC4 and our sister station, Telemundo 44, are #Working4You in our communities in D.C., Maryland and Virginia
********************************************************************
FILMS AT THE STONE
The Memorial Foundation, a nonprofit that promotes the Martin Luther King, Jr. Memorial presents free summer film screenings on the lawn near the MLK Jr. Memorial on the National Mall.
Black Panther - Thursday, August 19 at 8:30 p.m.
Films at the Stone, the annual film series at the Martin Luther King, Jr. Memorial will screen "Black Panther" on August 19. Starring the late Chadwick Boseman, Marvel Studios' "Black Panther" follows T'Challa who, after the death of his father, takes his rightful place as King of Wakanda. In 2018, this award-winning film became the first superhero movie to be nominated for an Academy Award and a Golden Globe Award. Before the showing, the KanKouran West African Dance Company will present a pre-show dance and drum performance.
++++++++++++++++++++++++++++++++++++++++++++++++++++++++++++++++++++++++
National Building Museum Exhibitions
In addition to the popular and ongoing exhibitions House & Home and Animals, Collected, the Museum will offer three new opportunities for visitors to discover timely, important, and beautiful aspects of the built environment.
Justice is Beauty: The Work of MASS Design Group showcases a nonprofit architecture firm whose work focuses on public health, personal well-being, and human dignity. Over its first decade, MASS Design Group has paved the way in designing health structures that manage disease outbreaks such as tuberculosis, cholera, and Ebola. Other innovative projects include schools, prison design alternatives, food-conservation labs, urban space designs, and memorials to commemorate civil injustices. On display through September 2022.
Shown in conjunction with Justice is Beauty, the Gun Violence Memorial Project is an architectural space of memory and healing: four glass-brick houses that are filled with remembrance objects collected from immediate families whose loved ones were killed by gun violence. This tribute to the thousands of lives taken by gun violence in the U.S. each year was designed by MASS Design Group and conceptual artist Hank Willis Thomas, and developed in partnership with the gun violence prevention organizations Purpose Over Pain and Everytown for Gun Safety Support Fund. On display through September 2022. This exhibition is free for all visitors—no ticket purchase required.
The Museum's exhibitions and the Museum Shop will be open from 11 am to 4 pm, Fridays through Sundays. Masks are required for all visitors at all times, and the Museum is following all D.C. government COVID guidelines regarding visitor capacity. Over the past year, the Museum has moved its public programs to an online format, and this will continue over the coming months, until the city's rules on the size of indoor gatherings allow for in-person events.
++++++++++++++++++++++++++++++++++++++++++++++++++++++++++++++++++++++++
"Home Is Where You Queer Your Heart"
Local people who grew up near Washington, D.C., and who have been published in this anthology from LGBTQ press Foglifter, including Ryan Artes, Daniel Barnum, Tahirah Alexander Green, D Nolan Jefferson, Miah Jeffra, Baruch Porras-Hernandez, jamal rashad, Zak Salih and other special guests, will read at Busboys and Poets, 2021 14th St NW on August 2nd, 6:30-8:30 pm.
Busboys and Poets will sell the anthology and participating authors' books. This event is free and open to the public.
********************************************************************

Saturday, August 28, 2021 at Nationals Park
#OperaInTheOutfield
PRESENTING SPONSOR
M&M's® and AMERICAN HERTIAGE® Chocolate Brands
After a three-year hiatus, free community event allows fans to lounge in the outfield and watch an opera broadcast of Rossini's charming take on the classic rags-to-riches story
5 p.m. Pre-show family entertainment includes the broadcast of Mo Willems's first opera
Elephant & Piggie present SLOPERA!: A Bite-Sized Opera
7 p.m.  HD Broadcast of Cinderella
The evening's activities will also include: performances by local artists, photo opportunities, arts and crafts for children of all ages, and chances to win prizes. For more information about pre-show activities, please visit the Opera in the Outfield®website here.
********************************************************************